I'm the type of girl who likes holidays in general, but I have to admit, I have a special spot in my heart for the 4th of July: a holiday that not only allows, but in fact encourages, me to play with fire and cause small explosions.
That said, 4th of July also necessitates taking some extra precautions. Every year, we all see the horror stories: fingers accidentally amputated by fireworks, burns, and sometimes worse. I'd rather not have anything happen to our readers – and besides, if you get hurt, you won't be able to train as well!
Now, I would be hypocritical if I told you not to set off fireworks at all. But if you do, be smart and safe about it. Take the following measures to have a fun 4th!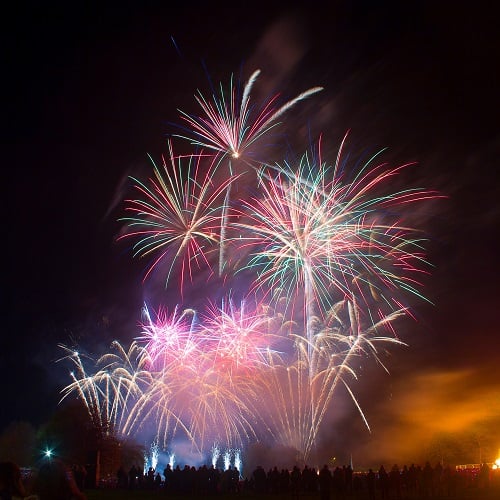 Firework Tips:
1. Make sure you're doing everything legally. Large fireworks are prohibited within some city limits, and if there's a fire danger in your area, even smaller ones may be banned. Check your local laws to make sure.
2. When setting off fireworks, have two (preferably metal) buckets of water on-hand: one to drop spent fireworks into to ensure they're extinguished down to the last spark, and another in case of small grass fires. Wait overnight to empty the water out of the fireworks bucket and throw the remains away.
3. Don't point fireworks at anyone. No, not even Roman candles. My friend's cousin caught his brother's shirt on fire doing this (fortunately, everyone, minus the shirt, was okay).
4. Supervise small children. Do not assume, for example, that they know not to grab the lit end of a sparkler.
5. Know your neighbors. If you're going to be setting fireworks off in an area where other people are present, be courteous. The noise of fireworks can trigger PTSD. Others may have small children who need to be asleep at a certain hour, who the noise would disturb.
6. Make sure your pets are secured indoors. This is especially important if you know your dog/cat/hamster/bird/whatever (fish are probably safe from this) is afraid of loud noises or is prone to bolting. Pet shelters typically report booming numbers July 5th – make sure your own furry friends aren't among those seeking independence.
7. Don't mix alcohol with fireworks. If you're going to be around fireworks this 4th, I would advise you to take a hard pass on all alcohol. Drinking can impact your judgement, so doing something you know is a bad idea, after a few beers, can seem perfectly sensible. And, of course, never drink and drive.
8. Don't light multiple fireworks at once. Light one, move off, watch it, enjoy it, dunk the remains in water, and then move on to another one.
9. If a firework won't light or fizzles out, don't try to relight it or "fix" it in any way. Wait 10-20 minutes then dunk it in water.
Non-Firework-Specific Tips:
10. If you start your celebrations before the sun goes down, make sure to wear sunscreen. We're trying to all types of burns here – sunburn included.
11. Drink plenty of water! I don't know about your hometown, but July in Oklahoma is plenty hot. If you're outside, sip water frequently, and don't wait until you're thirsty to drink. Plus, make sure you know the signs of dehydration.
12. Don't get overheated. Since many people have the 4th off work, it's a popular day to go to a lake or park. Again, July can get pretty toasty, so if you have an active day planned, make sure to give yourself plenty of rest- and shade-time to avoid heatstroke.
And one more thing: Have fun! From the Century family to yours, Happy 4th of July!