Hi! If you've clicked your way over to this blog, it probably means you're a new martial arts student or thinking about starting soon. That's awesome! There are so many reasons to train: for exercise, to learn new skills, to start a lifelong hobby, and even to gain new self-respect and self-awareness.
I could go on – but let me introduce myself first.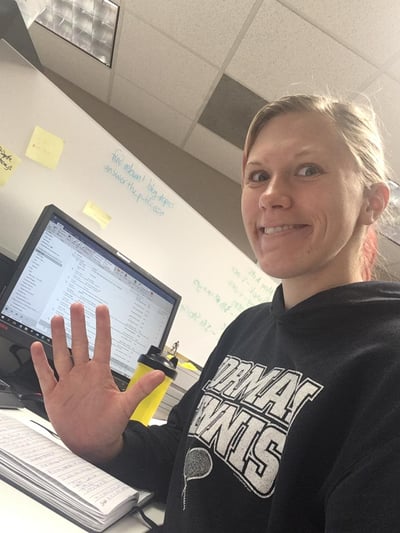 Hi. I'm Sarah. I've been training in martial arts for around five years now. I've done jeet kune do, Brazilian jiu-jitsu and muay Thai (my personal favorite). I'm a very, very, amateur fighter, with one muay Thai fight and one MMA fight under my belt (lost, and won).
I'm also the copywriter at Century Martial Arts, where I get to write blogs and other things. We're a martial arts equipment company, but one of the really, really cool things about us is that we don't just make stuff. This company breathes, speaks, and lives martial arts. A big reason for that is that so many of our employees are martial artists. Some of us are new; some of us have been training and teaching for most of our lives. Some of us own schools. You can find just about every belt color and discipline represented here.
That's a great thing, for many reasons. And since so many of us are crazy about martial arts, we tend to get a little passionate about wanting other people to try them, too. You know when you have a favorite TV show, and your friend asks you about it (or even if they don't), and you're like, "Oh man it's totally great, best thing ever, you need to watch it, just the first episode and you'll be hooked!" That's what we're like about martial arts.
Still, some people hesitate to join martial arts, or are hesitant about letting their kids train, because on the surface, the arts can look really different from anything else they're used to. And this is fair: to someone who doesn't know Brazilian jiu-jitsu, watching the sport looks like very slow, angry hugging on the ground. Karate forms look like punching the air. Muay Thai (the word) looks like it might taste delicious and muay Thai (the sport) looks like it might taste like pain.
I saw a chance for those of us at Century to offer something just as valuable as the gloves or bags we sell: knowledge. I went around badgering my coworkers (thanks guys!) and getting their answers to different questions a beginner might ask. These aren't Super Fancy Professional videos – just plain-talk answers, like we'd tell our friends if they asked us.
Anyway, if nothing else, I hope that after you watch these videos you come away with the knowledge that:
There's no reason you can't try any martial art you want!

No matter whether you're a beginner, two years in, or an expert, we're all still on our martial arts journeys together.

Martial artists are usually really friendly, and you'll always be able to find someone to help!
If you have any additional questions you'd like answered, or any other martial arts you'd like to see, leave a comment below!
Here are the arts we've covered so far:
More to come!