Century, in partnership with the Adaptive Martial Arts Association (AMAA), is working to raise awareness and to develop products for adaptive martial arts. The AMMA is the nation's leading resource for adaptive martial arts training information and support. It is a 501c3 non-profit organization, founded by Jason "The Animal" Davis, an adaptive martial artist born with cerebral palsy.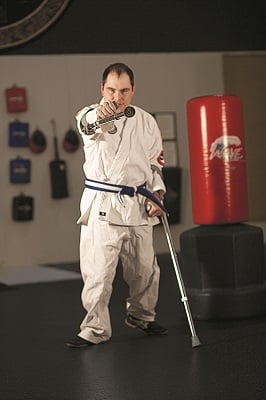 At the age of eight, Davis tried to enroll in martial arts school with his older brothers. However, during their initial phone call with the school, Davis' parents disclosed that he had cerebral palsy. Suddenly, the school was no longer interested in taking Davis as a student. It wasn't until 23 years later that he would finally have the opportunity to pursue his dream of martial arts training.
The early rejection left a mark on Davis and became one of the driving forces behind the launch of AMAA in 2011. He was also spurred to create an inclusive martial arts program after he, his therapist and his doctors began to see remarkable health benefits as a result of his training.
"I needed to do something to make sure that no other eight-year-old would have to experience being told they couldn't do something because of others' fear and lack of knowledge," says Davis. "I wanted to educate instructors and support them as they changed lives, while spreading the word to the disabled community about the great benefits they might also experience from martial arts training."
The AMAA is a Vermont-based organization providing free training, information, and support for instructors, adaptive students and the disabled community. Their website offers free access to a directory of over 300 nationwide schools that welcome adaptive students. The AMAA's volunteer consulting team and therapists assist instructors by answering questions related to disabilities, adaptive training and class modifications.
On the local level, the AMAA, in partnership with Century Martial Arts, provides free or reduced-cost classes, uniforms and equipment to adaptive students on fixed incomes. On the national level, AMAA uses its network of instructors to provide feedback to help Century develop products for use in the adaptive martial arts.
To contact the Adaptive Martial Arts Association, visit their website, AdaptiveMartialArts.org, call 802-747-8184, or email contact@adaptivemartialarts.org
Some of the products and services Century offers for Adaptive Martial Arts Students and Instructors include:
Uniform modifications to accommodate physical disabilities and braces

For dexterity challenges:

Hook-and-loop closure 'no-tie' uniforms

Hook-and-loop closure 'no-tie' belts

Hook-and-loop closure 'no-tie' mat shoes

Customized targets and shields with unique visual cues

Agility hurdles & ladders, rings, balance beams, and many other unique obstacle course items (non-customizable)