Twila Schuler of Rising Son Karate has been training in martial arts for more than 30 years, and has been an instructor for 25 of them. She specializes in Shotokan karate, but is also an avid Brazilian jiu-jitsu practitioner, regularly training under the tutelage of John Geyston and working through Royce Gracie's Jiu-Jitsu 360 Self Defense Program. She's also been an instructor for over 25 years.
"It's been an amazing journey, and one that I plan to stay on for the rest of my life," says Schuler. "Doing what you love every day is like a dream come true. And being able to help others in the process by empowering students and families through our Christian-based life skills - It just doesn't get much better."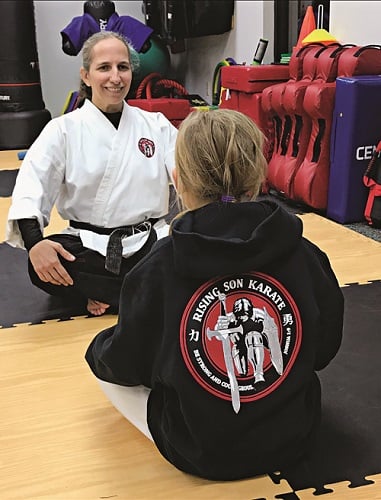 Throughout her journey, Schuler has striven to keep her business on the cutting edge and ahead of the curve.
"We are in a small community, so the impact of branding our school through Century customs is very noticeable," she says. "We always have people recognize our logo before they even sign up. They see it on all our custom apparel that students and instructors wear around town. They act as walking billboards for our school, and our students are always great ambassadors of the school if they are asked about it."
So, what are the key items to customize? Rising Son Karate uses a simple strategy that Schuler is happy to share:
"Make sure to include uniforms and t-shirts," she advises. "If you don't already have a custom program with Century, start with these items. They pay off inside and outside your school. Customizing your uniform ensures that your students get their uniforms from you, while also promoting your school at all times. On top of that, it gives a true, professional look to your school and your program. That speaks volumes to prospective students and parents of students. We also see our logo appearing in the digital spaces such as Facebook and Instagram, which just adds to the exposure."
Schuler also stresses the importance of spending time creating a unique, quality logo.
"Your logo is a reflection of your school," she explains. "Make sure you spend time crafting it carefully. It's not a process you want to rush."