Protective gear has certainly come a long since we humans first realized, "Huh, I'd better try to not break every bone in my body." Today, you can find gear of all kinds for all sports, but the best gear for martial arts comes from Century Martial Arts, the world's leading uniform and equipment manufacturer. Add 40+ years of experience, research, development and testing and you have an end product – actually, products – you can have confidence purchasing. The Student Sparring Headgear, Gloves and Boots are among them.
---
Let's take a look at each: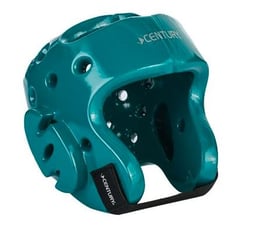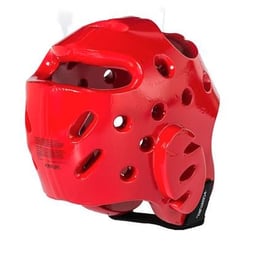 Two different colors or Student Sparring Headgear, front and back.
I like this headgear because of the way it form-fits. It's comfortable and secure without obstructing my view. Although most of the time we practice sparring at 30% speed and power during, especially when working with newer, enthusiastic students, some accidents are inevitable. Knowing the gear I use keeps me covered allows me to focus on my sparring strategy and giving pointers.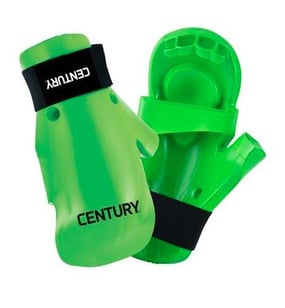 The newest color of Century Student Sparring Gloves, Neon Green!
Having the right gloves is important to me. Like a baseball player's glove, fit and feel of sparring gloves needs to be just right. I like the open-finger feel of the Student Sparring Gloves – I find it provides a better level of grip control when guiding a punch or a kick away from you.
Being able to have the slight fingertip pressure that is afforded in this glove gives me a better feel for the direction and intention of my partner's strike. I also like the tight fist I can make when it is time to punch. It takes no time or pressure to go from an open hand parry on defense to a tight-fisted offensive punch.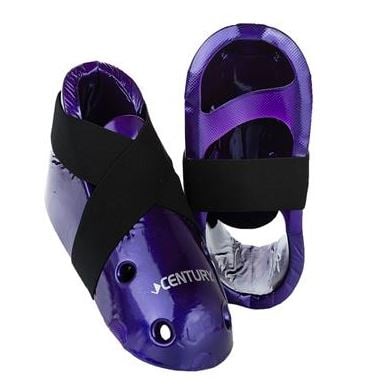 Student Sparring Boots in purple! There are lots of colors.
If you're stand-up sparring, you need to be continually stepping, sliding, cutting angles and pivoting on your feet. For this, you need foot gear that doesn't compromise your movement in any way. In other words, you want to forget you have anything covering your feet – yet still actually have something there providing cushioning for you and your partner. I think Century's Student Sparring Boots accomplish this quite well. They wrap around and contour to your feet the way feet pads should, and are engineered to be light and have a thin feel while still providing the necessary padding.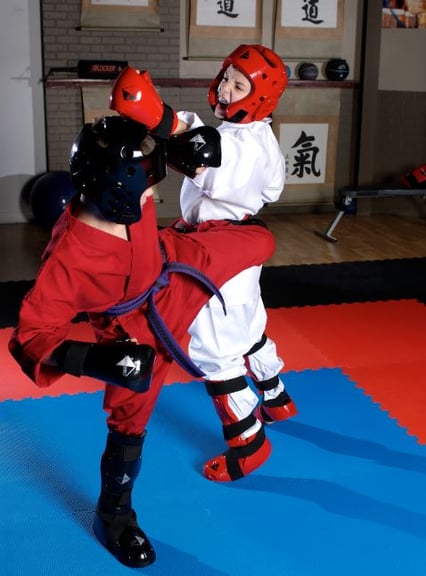 Every piece of this gear line is lightweight, yet durable. They hold up to the demand that is placed on them in sparring classes.
As a person who has competed all over the world and as a member of Team Paul Mitchell Karate, I have seen and tried on many different types of gear. When I review a product, I take both my experience as a world champion in Sport Karate, the developer of the Retention Based Sparring Program and my experience as a martial arts school owner teaching all ages and experience levels into account. In my opinion, it would be hard to beat both the quality and value afforded in this Century line of products.
A few other pieces of Century Student Sparring Gear:
Student Sparring Rib Guard Student Sparring Shin Guards