Hey! You there! That's right, you – the one looking for gloves for your kickboxing or boxing classes! I have something for you. Whether you're taking these classes yourself or you're about to start offering one at your gym, and need gloves to offer in your pro shop, I'm here to help you out.
The Eight Count line from Century features a variety of boxing gloves designed to help you and your students succeed in their training. There's no wrong pair or pairs – they're all great gloves. The trick is to find the pair that's perfect for you!
Let's jump in!
Eight Count Classic Boxing Gloves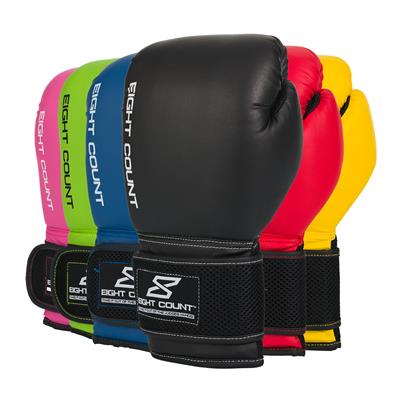 Retail Price: $19.99
Sizes: 12 oz. and 14 oz.
This is a great starter pair of gloves! They have the lowest price point, making them an ideal entry-point purchase for people who are still on the fence about joining a boxing program full time, but are definitely in the, "Well, I want to try a few classes," phase (and who don't want to borrow sweaty, second-hand gloves!). At 12 oz., they're among the lightest in the Eight Count assembly, also making them ideal for first-timers.
Don't let the fact that these gloves are great for beginners trick you, though! They're anything but basic. With a mesh palm for comfort and internal grip bars to support fist formation, they'll work just as well for anybody.
Eight Count Patent Boxing Gloves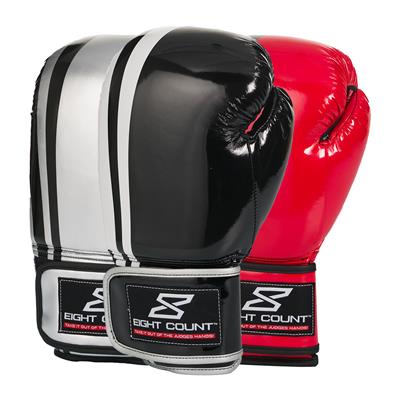 Retail Price: $24.99
Sizes: 12 oz. and 14 oz.
Perfect for adding a little extra flash, the patent exterior of these gloves also makes them easy to clean: just wipe them down with a damp rag after training. Like the Classic Boxing Gloves, they boast an internal grip bar and mesh palms for comfortable, properly formed fists for improved punches.
With their shiny exterior and decorative stripes, they're sure to catch eyes and interest when displayed in your Pro Shop!
Eight Count Two-Tone Boxing Glove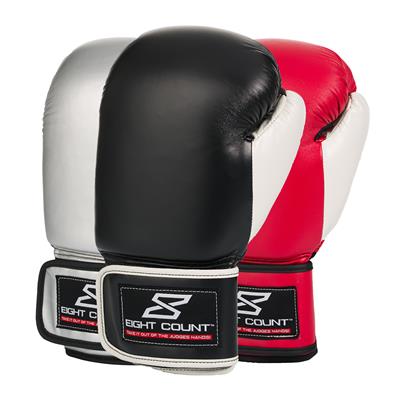 Retail Price: $24.99
Sizes: 12 oz. and 14 oz.
If shiny isn't your gym members' thing, but they still want a more stylized look than the Classic Boxing Gloves, stock your pro shop with Eight Count Two-Tone Boxing Gloves. They feature mesh palms and internal grip bars, too, because however styles may change, form and functionality remain pertinent.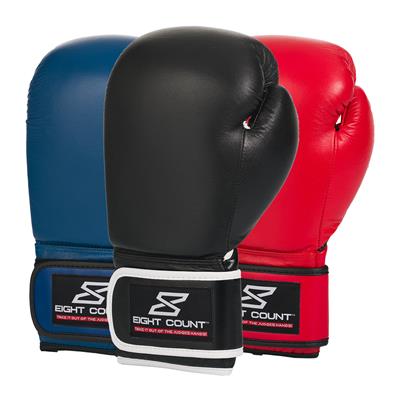 Retail Price: $39.99
Sizes: 12, 14 and 16 oz.
These leather gloves go up to 16 oz. in weight, making them great for strikers with a little more experience under their belts, or those who want to add another level of difficulty. They feature extra padding on the far side of the palm, which provides additional covering for back-fist strikes and more cushioning in general. Although there are no mesh inserts (why mess with the look of the leather?), there are four punched outlets in each palm for ventilation, to help prevent the buildup of odor-causing bacteria.
Eight Count Patriotic Color Block Glove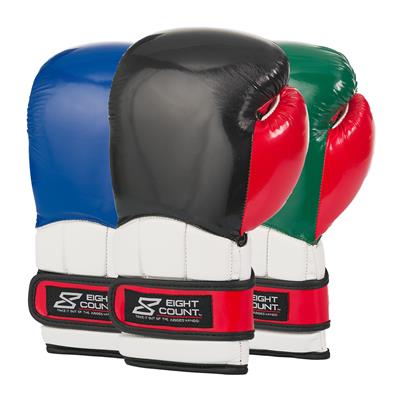 Retail Price: $49.99
Sizes: 14 oz. and 16 oz.
If you're catering to experienced strikers, or to an audience who wants superior coverage and doesn't mind a little additional weight, you need to give them the option to buy Eight Count Patriotic Color Block Glove. These gloves feature extra padding on the back, knuckles and wrist, composed of multiple internal layers of foam. The wrists themselves are also longer than other gloves', with a thicker wrist strap.
Keeping wrists protected is essential for boxing; however, you never want to sacrifice all of your flexibility. That's why the padding on the wrists features three sewn sections. Stability and movement – it's a win-win!
Eight Count Graphic Boxing Glove
Retail Price: $49.99
Sizes: 14 oz. and 16 oz.
For those who love flash and flair and want to show their Eight Count Boxing pride, you need to get the Graphic Boxing Glove! It weighs in at the heavier end of the Eight Count line, but with a soft interior lining, thick wrist strap, and extra padding along the palm of the gloves, they're perfect for hard-hitters!
Ideally, you would offer all six styles of Eight Count glove – in all colors! – at your pro shop. However, since your inventory and shop space may not accommodate that, we recommend giving your gym members three options to choose from. And you never know – maybe the gloves you thought would be popular aren't a hit with your members, while the gloves you thought were a gamble are selling out! You can order more at any time using your Century Wholesale Account, and figure out what combination of gloves fits your program, and your gym members' needs, best!