As winter hits, so do the snow and ice. Whether you find yourself dealing with seriously unsafe streets, or simply find it too cold to leave your house, winter weather can seriously cut into gym time. This doesn't mean that you should force yourself to brave dangerous weather or freezing temperatures to stay in shape. You can take a break from the gym and still stay fit!
With an indoor workout, you don't have to leave the comfort of your own home. There are exercises you can do anywhere – even in a single hotel room, if you, like many, travel for the holidays! If you're ready to look and feel your best this winter, check out these top workouts.
Jump Rope
Jumping rope is by far one of the best at-home workouts on this list! Whether you're staying home for the holidays, hitting the road, or traveling by plane, you can take your jump rope anywhere. A good jump rope workout can be as short as 10 or 20 minutes – in just 10 minutes of moderate jumping rope, a 150-lb. person would burn 141 calories! You can even sneak in a little five-minute work out before the big holiday dinner. Jump ropes are great because they get your heart rate up and strengthen your muscles at the same time.
Another great thing about jump rope is that you technically don't need the rope to take part in it. You can simulate jumping rope and gain some of the same benefits. For instance, all you have to do is stand with your feet together, forearms bent as if you have a jump rope. Then hop from side to side, pretending to swing your rope.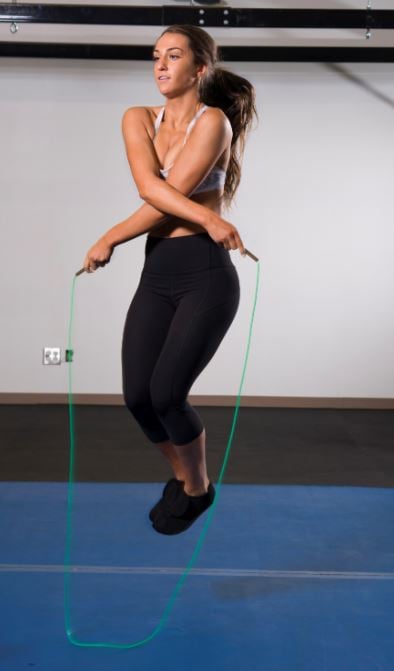 This is an Advanced Jump Rope Technique. She's clearly very experienced, but it's not like she can levi...
...tate...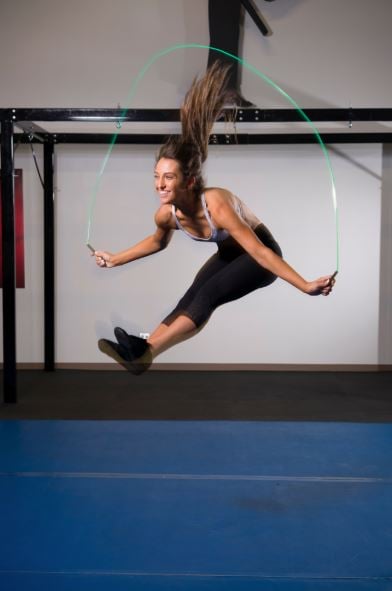 HOW ARE YOU EVEN DOING THAT
Planking
When you don't have a lot of extra time on your hands, the plank is the perfect indoor workout for you. This exercise builds your core muscles and only takes about 30 seconds for a beginner to start to feel a burn in their abs. You get into the push-up position, but instead of bending your arms, you hold your arms in an extended position for about 30 seconds. Every day, you can add about 10 seconds to increase your workout. This challenging exercise really works your core.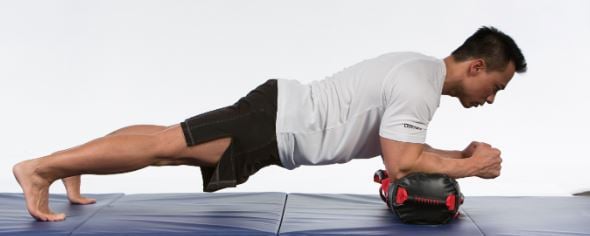 Use the Century Weighted Fitness Bag to turn boring normal planks into ELEVATED MEGA PLANKS*.
*Just kidding. There's no such thing, just a regular elevated plank.
Stair Stepping
You don't have to have any expensive equipment to get involved in stair stepping. You don't even need a flight of stairs in your home. All you need to do is find a book. Choose the biggest book that you own or even a chair and use it to step up and down repeatedly. Set your chair or book up in front of the TV and watch your favorite show while getting a good workout.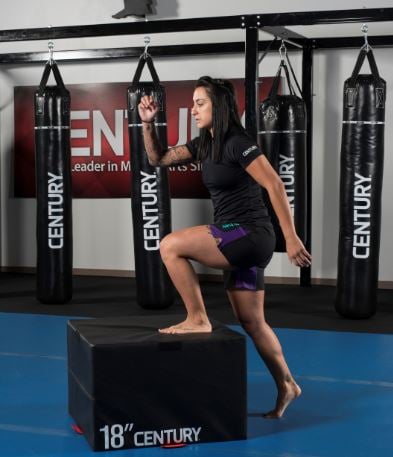 Step-ups on the 18" Century Plyo Box. There are also available in 6" and 12" sizes.
Just mind your balance, and make sure you're using a stable, slip-resistant surface! Century's Plyo Boxes are perfect for this exercise, as well as many others! If you have a little extra space, the Plyo Boxes' versatility makes them a well-worthwhile addition to any home gym or fitness space.
Dancing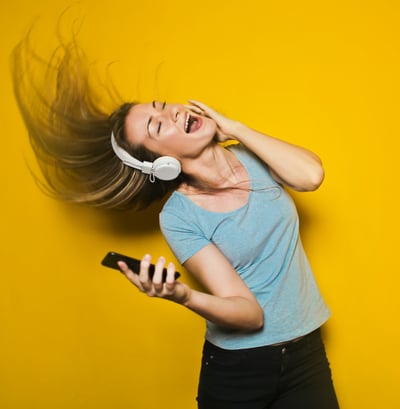 WHEEEEEEEEEEEEEEEEEE
If you're like most people, you like to dance. It is almost human nature to hear good music and to want to move along with it. Dancing is a vigorous exercise. It is great cardio and can even improve balance and endurance. Of course, while it helps you improve your body, it can also lift the spirits in those cold winter months. You don't have to pull out any special moves. Turn on your favorite music and get moving! It doesn't matter if you're a professional or a beginner. No one's watching, and all that matters is that you get your heart rate up.
Lunges and Squats
Lunges are one of the easiest at-home workouts. It requires no equipment and you can do them in any room. A common way to do lunges is to start in the hallway and instead of stepping back into place after the lunge, continue to step forward. Make your way down the hallway and back. You can potentially do this in any room of your home. You will definitely feel the burn after.
Want a more challenging workout? Try split-level squats or lunges on a Century Plyo Box, or add some extra weight with a neoprene kettlebell, Power Grip weighted fitness ball, or Weighted Fitness Bag.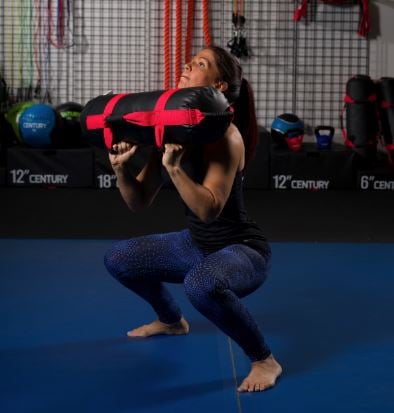 Front squat with the Weighted Fitness Bag. Personally, I'd hold the bag behind my head. Slightly different workout. To each her own, I guess.
When it comes to an indoor workout, there are a lot of options out there for you to try. Think about the workouts that you do in the gym and figure out which ones you can do anywhere. You'll probably find that there are a lot that you could alter for home training. A lot of people don't like to hit the gym when it's too cold out. For many, it isn't practical. With the right at-home workouts, you don't have to worry about falling out of shape.