Your bones are one of the most important parts of your body. They not only provide the support your body needs to hold muscles in place and move freely, but also supply calcium to the body's cells, holds the bone marrow that helps make your blood and bone cells, and protect your organs. Without healthy bones, your body and life would be much different. This is (part of!) the reason why eating right and exercising are so important.
The Right Foods to Keep Your Bones Healthy
The nutrients that you put into your body help it to remain healthy. Your bones need specific vitamins and minerals to remain strong and create long-term health. Many people already know that calcium is important for creating strong bones, but when it comes to what to eat for bone health, there are several other nutrients you need for optimal performance.
Vitamin D: Vitamin D works together with calcium to help your bones stay healthy. Since it helps your body absorb calcium, a lack of vitamin D means you're more likely to be calcium-deficient as well. The best sources of vitamin D include salmon, dairy products, and some fortified foods, such as almond or coconut milk. NOTE: Be careful about these fortified foods, as they can also contain high amounts of added sugar!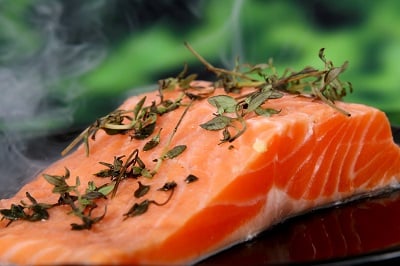 Om nom nom nutrients.
Ipriflavone: Derived from soy, ipriflavone is another nutrient that works with calcium. Together, the two help to strengthen bones in people who have been diagnosed with osteoporosis. It may also reduce bone loss in people who have paralysis due to a stroke. Unfortunately, you cannot find this nutrient in food, but a health care provider can prescribe a supplement if he or she determines you need it.
Boron and Vanadium: These trace minerals are important for your bone metabolism. You can find them in whole foods such as fruits and vegetables, nuts, shellfish and whole grains.
Phosphorous: The second-most-common mineral in your body, phosphorous is prevalent in many foods like meat, poultry, fish, beans and dairy. It's also prevalent in beer, soda and other bottled beverages, and in many processed or packaged foods. Before you celebrate by eating a bag of chips and quaffing a bottle of pop, remember this: although you need some, having too much will hinder your body's ability to effectively use other essential minerals. This can lower your calcium levels and make it harder for your skin to produce vitamin D. It's far more common for people to have too much phosphorous in their systems than too little. You're probably getting plenty from the healthy foods you eat.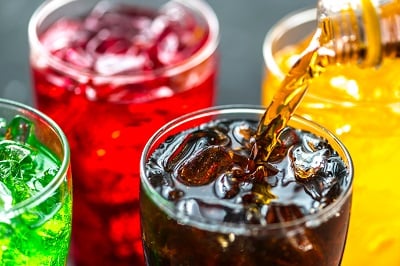 Sorry, it's still not a health food.
In addition to consuming the proper vitamins and minerals, an alkaline diet can also help to create healthy bones. Alkaline foods like almonds, tofu, and some spices, including mustard and sea salt, help to balance the acidic foods you do eat and keep your bones' pH balance healthy.
The Importance of Exercise for Bone Health
Nutrients are only part of the equation that equals healthy bones. Bones are made of living tissue that requires regular exercise in order to remain healthy. The more regular exercise you have, the closer you'll get to peak bone mass. You'll also maintain muscle strength and have better coordination, which can prevent falls that lead to broken bones. Of course, the right exercises for bone health are the key. Weight-bearing exercises that have you working against gravity are the best kinds to maintain bone health. These include:
Weight training
Hiking
Stair climbing
Dancing
Tennis
Jogging
Walking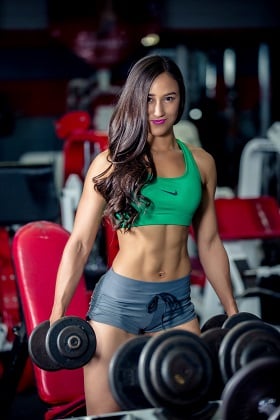 Looking great on the outside starts with being healthy on the inside! Like in your bones. And internal organs and other stuff. One blog at a time, okay?
The Surgeon General recommends people get at least 30 minutes of exercise per day, but it is also important for you to listen to your own body. If you aren't used to exercising, you may notice some discomfort for the first couple of days. If pain lasts longer than that, you might be working out too hard. If you notice any chest pain, you should stop working out immediately and visit your doctor before starting again.
In fact, you should always speak with your doctor before taking on any new exercise routine. This is especially true if you have osteoporosis, because low bone mass requires protection of the spine when exercising. It is also important to talk to your doctor about exercise if you have health problems such as high blood pressure, heart trouble, obesity or diabetes.
The Bottom Line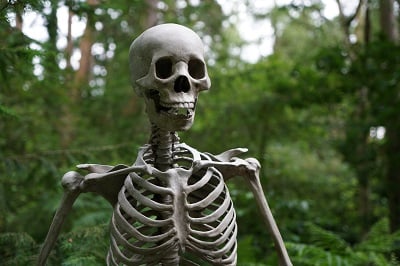 Bone health is important! Look how happy it's made this guy!
Healthy bones lead to a longer life and a better quality of life. Whether you're in your early twenties and hoping to live life with a healthier body, or you're older and showing signs of osteoporosis, it is never too late to start taking better care of your bones. Eating right and exercising can help you do just that!