When you think of "stuff Century makes," what comes to mind? Probably bags, gloves, uniforms, and the other cool gear that you see in our Facebook live product demos or in the Century Challenges, right? Well, you're not wrong – but there's more than that!
Have you ever seen an ad for Century products? Like this:
Or this:
Did you know that Century creates our own ads in-house? That includes ads in MASuccess magazine, on Facebook and social media, in emails – and videos! And until now, no one has seen the secret behind-the-scenes info I'm about to reveal, in
The Making of a Century Ad
Step 1: Have a snazzy product that needs an ad.
In this case, C-Gear Sparring Gear and Unifroms.
Step 2: Brainstorm ideas.
Consuming coffee during this stage is not only encouraged, but mandatory.*
*Energy drinks can be substituted – the caffeine is the important thing here.
Step 3: Choose an idea.
Step 4: Discard idea because you thought of a better one.
Steps 5 - 17: Repeat steps 3 and 4, perhaps indefinitely.
Step 18: Realize you're running out of time and choose that one idea that was definitely really cool!
Step 19: Find a venue.
Thanks to having ~connections~ (Jef also works as a DJ and knows where the cool places are and how to get in) we got to shoot at the Tower Theater, a historic venue (it opened in 1937, but was renovated in 2016!) in Oklahoma City.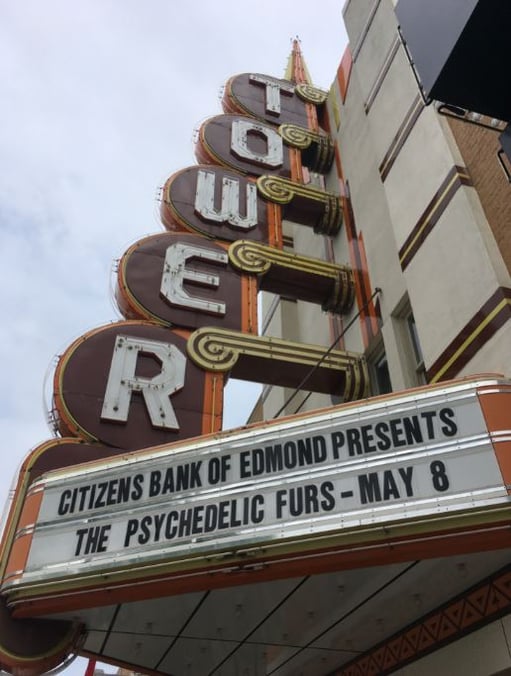 The outside of the Tower Theater. We missed The Psychedelic Furs, though.
Step 20: Assemble talent.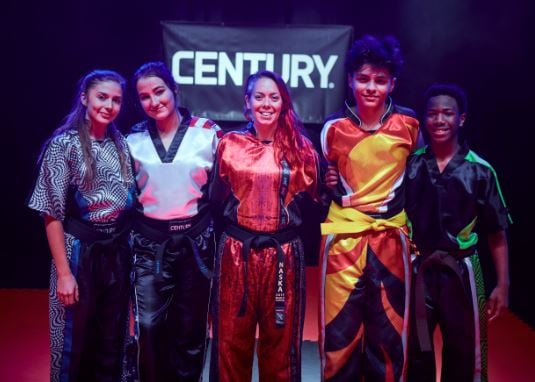 Left to right: students Molly Smith and Jane Russ, Sensei Allman, and students Eli Hurtado and Myron Peoples.
We sought out local martial arts talent with the precision of a one-eyed former CIA agent drafting members for a superhero team. Our hunt yielded Sensei Jennifer Allman and several of her top students from Firehawk Martial Arts (make sure you check out my Martial Arts Talk interview with Sensei Allman, too!).
Step 21: Decide that you know what you need? Lasers.
Tragically, the lasers didn't make it into the final video because apparently "blinding people" is a bad thing.
22: Shoot video and photos for ad.
I have to give huge props to the kids: Jane Russ, Molly Smith, Myron Peoples, and Eli Hurtado. They were exceptionally talented, funny, polite, and easy to work with. Jane and Molly pretty much choreographed their own fight scene, and did much better than anyone else at remembering the order of the shots, so when we needed multiple takes, we could stay better organized.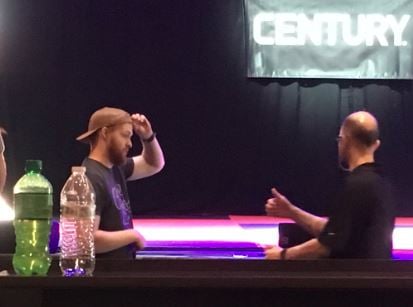 Video bros Bryan and Alec monitoring the recording.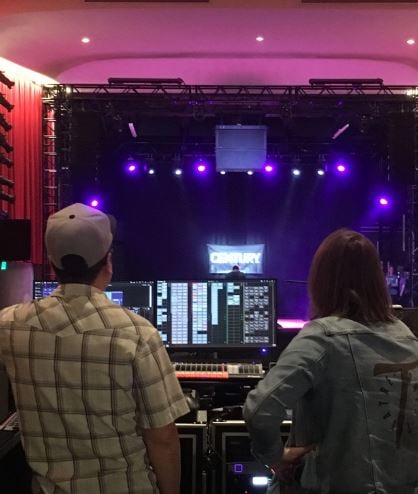 Jef (left) works the sound system and controls the lasers.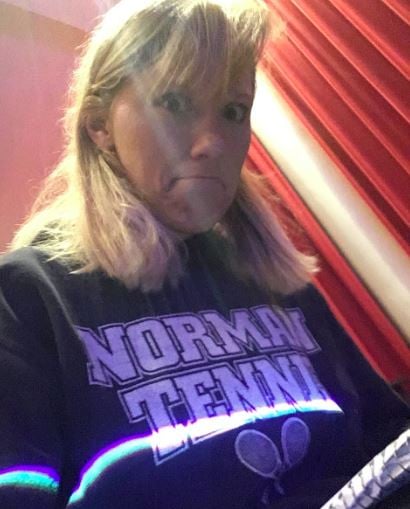 Got laze'd while taking notes.
All the cool first-person viewpoint shots were only possible thanks to them, too. We used special mouthguard-mounted GoPro cameras to capture the action. Yep, you read that right. Not only were these young women running through multiple point-sparring rounds, they were doing it with cameras in their mouths.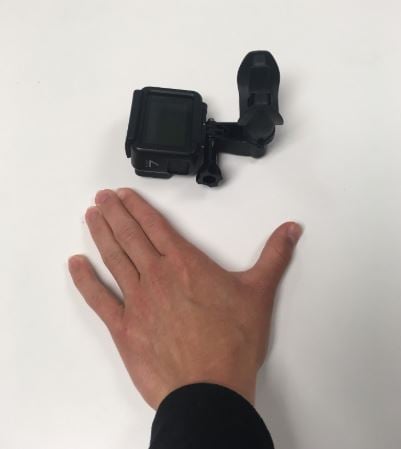 The mouthguard-mounted camera (hand for scale).
23: Use mad editing skillz!
We wrapped up the shoot, we packed up and headed back to Century. As with all video ads, all the raw footage went to our video team. They select, organize, and edit the clips, pair them with music and effects, and are ultimately responsible for creating the final ad! Our video team is amazing, and they always do great work!
24: Show complete ad!
Our C-Gear ad debuted at the 2019 Martial Arts SuperShow and on ESPN3 before the US Open ISKA World Martial Arts Championships. You may have already seen it, but if not, here it is:
Pretty cool, right? 😊 And that's how an ad is made, from start to finish!