It was the mid-1990s and Quinton Hooper was neck-deep in the customs and culture of Japan. As a college student teaching English in the tiny village of Nagato, Hooper had arrived expecting to simply instruct teenagers. What the native-Texan found, however, was a chance to learn right alongside them.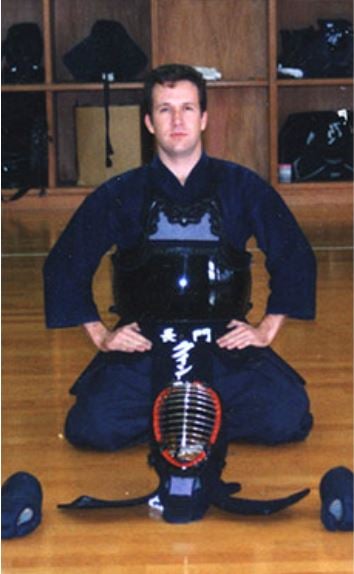 Studying kendo in Japan.
"I wanted to do something cultural, something that was part of their history," Quinton says. "So I started kendo with the junior high students."
Quinton soon advanced past his younger classmates and joined the high school kendo students. Then came invitations to train with police officers and compete in tournaments.
"I studied it very intensely for three years and ended up leaving Japan with my second degree black belt," Quinton says, adding that training and testing in the Japanese language was an especially remarkable experience.
After living in Japan for a total of five years, Quinton returned to the United States where he started a career, married his wife, Susannah, and had two children, Aidan and Addison. He had stopped training in kendo, but talked about it often.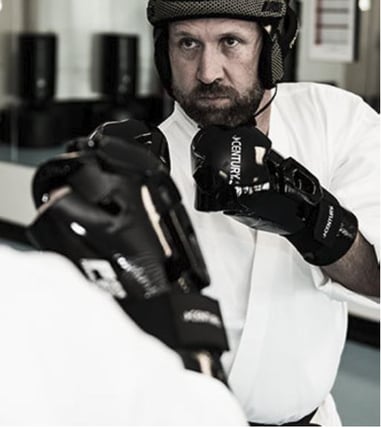 Quinton Hooper in competition.
"Aidan loved hearing Quinton's adventures of Japan," Susannah says. "Aidan mentioned that he kind of wanted to do martial arts, and he wasn't loving baseball, so we thought, 'OK, we'll try it.'"
The Hoopers, who live just north of Oklahoma City, found a local ATA school for Aidan that turned out to be a perfect fit. During his son's classes, Quinton would often talk to the lead taekwondo instructor about his martial arts background and "the next thing I know I'm teaching him a little kendo," Quinton recalls. Not long after, Quinton became the student again and started training at the school.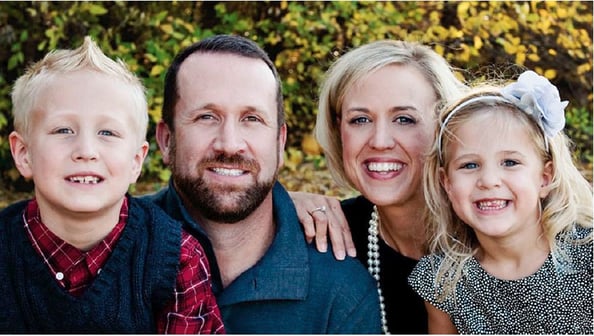 A family photo of Aidan, Quinton, Susannah and Addison.
Through Quinton and Aidan's involvement in martial arts, they gained an extended family made up of instructors and fellow students. That bond was none more evident than in 2013 when, on July 4, 8-year-old Aidan passed away in a tragic accident. Their martial arts family responded immediately in an outpouring of love and support.
"They were at the hospital with us," Susannah remembers. "At the funeral there were hundreds of them in uniform. The meals, the love, the support — they're there all the time and they're genuine."
Camo ribbons can be seen today on the backpacks of students and instructors around the community — a constant reminder of Aidan and the last belt rank he earned. Many even inscribe Aidan's name on their wrists or feet during competitions in his remembrance.
"They've rallied around us so unbelievably," Quinton says, who himself wears a camo belt under his uniform in tournaments to keep his son's memory close.
Through all his experiences, Quinton says, martial arts has been so much more than just physical training.
"The things you learn in martial arts apply to life," he says. "I've played just about every sport there is, but martial arts is different [because] it teaches the big things: Discipline and commitment and respect."