If you're a fan of sport martial arts, you're definitely already a Danny Etkin fan. A member of Team Paul Mitchell Karate, Etkin is a regular presence in sport karate's competitive circuits. He's best known for his insanely creative nunchaku forms and tricks – so much so, in fact, that he recently teamed up with Century to create a Signature Series line of the weapon (more on that later)!
When Etkin dropped by Century headquarters to shoot some video material, he was able to squeeze a quick interview for the Centurion into his schedule. We got to all the important stuff: the meaning of being a martial artist, the best way to balance college with a competitive career, and, of course, how nunchaku skills would fare against a giant bird.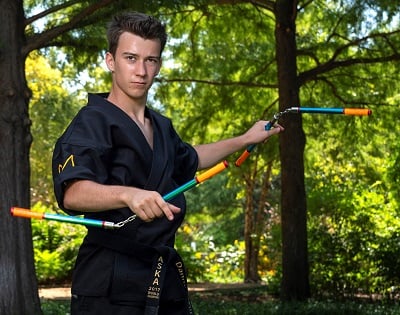 The CENTURION: How did you get started in martial arts?
DANNY ETKIN: I got started in martial arts in 2004, after watching a commercial on TV. There were some people jumping over pads and doing crazy moves, and there was a hip-hop beat in the background, so I thought it was for a dance class. That was really attractive to me, when I was four years old – I thought hip-hop was awesome. I went to the class, and found out that it was martial arts! Even though it wasn't the hip-hop class I was hoping for, it turned out that I loved martial arts, and I've been doing it ever since!
C: What's the craziest length you've ever gone to train martial arts?
DE: That was probably when I started Extreme Martial Arts. The closest dojo I could find that offered classes was about three hours away from me. So, every Saturday, I would go all the way up to Connecticut – I live in New York – and would train for, like, eight hours.
C: Eventually, you were able to train a little closer to home, which I'm sure was a relief. How do you handle other, non-commute-oriented challenges in your training?
DE: I always make sure to stay grounded into why I'm doing this in the first place. Recently, I had a high-ankle sprain that put me out for a few months. It was my first year in the adult division. I had just won one of the biggest tournaments that I could win, as a 17-year-old in the 18+ division, so I had some really good momentum forming. Then in my third tournament of the year, I got an injury during one of my competition forms and had to be carried off stage. That put me out for a long time. But I just had to stay focused, and look at the positive thing: it gave me a little bit of a break to reevaluate what I'd have to do to come back even stronger, and that's exactly what I did.
C: What does being a martial artist mean to you?
DE: Martial arts is, to me, a way of life. I've been doing it my whole entire life. It's made me the person that I am – not just through the martial arts skills I've learned, although those are important to me, but everything else too: from the mindset, the spirit, and so many other things that have affected my life.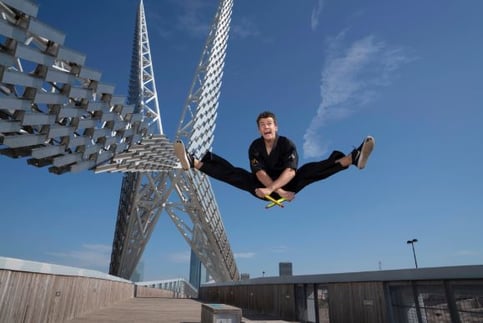 C: So, what drew you to learning nunchucks as opposed to another weapon?
DE: So, nunchucks were actually the fourth weapon that I learned. I started off with sai, then I did bo, then kama, then I did nunchucks.
When I was eight years old, I started training with one of my favorite martial artists, Matt Emig. He was my coach, and he would always try and push me to do nunchucks. For my tenth birthday, he came out with this big box of nunchaku, and told me to pick one. Obviously, I wasn't going to turn down a birthday gift! I had them for a few months but didn't really do anything with them. Finally I realized that if I had them, I should at least try and learn something. So I asked (Matt) to teach me a few moves. From there, I started to learn some combinations, and those turned into a form, and before you know it, I wanted to compete with them that next year! We trained super hard, and in 2010 I started competing in nunchucks!
C: And that's gone pretty well, wouldn't you say?
DE: Yeah! I'm a multi-time world champion in nunchucks. I've been winning for…well, pretty much ever since I started the chucks! I've even invented some new moves. And I'm really happy because (with this) as my first year in the adult division, I already took one of the overall nunchaku grand championships, which was one of my big goals for this year. It was actually a weapons championship, but I happened to be doing nunchucks.
C: And speaking of nunchucks – you now have a line of nunchucks with Century!
DE: This has been a dream of mine for a long time. I'm super-pumped to be teaming up with Century for the first ever Century Signature Series 'Chucks line! I've seen some of my favorite martial arts idols doing things with Century, and I always wanted to be involved with them. The fact that I'm doing a signature nunchuck line is totally awesome!
C: These nunchucks have your signature on them – but it's not like you just put your stamp of approval on a random product. You designed these weapons from the ground up, with all the special features you'd want. So what is it that makes a good 'chuck?
DE: The Signature Series is really cool, because, first of all, the weight is really great. That's one of the main things that I look for in a nunchuck. If the weight is off, it's going to be really hard to get those manipulations down, so I was really particular with how I wanted the chuck to be weighted. It's also very well-balanced, and on top of that, I picked some killer colors to put on those chucks to make them look like they're flying in your forms!
One super-unique thing that we did is, on the bottoms of the chucks, on the butt ends, they have colors! Most chucks that you'll see have just plain wood or black, but these ones have some really vibrant colors on the end, so they're going to look awesome when you spin them!
C: And you've taken these nunchucks for a kind of "test spin" haven't you?
DE: Yes! This is the same design that I use in competition! I'm really excited to start using my Signature line as soon as they come out, because I really made sure I got the colors and all the small details exactly how I like them.
C: Most of your competitive career, you've been competing on Team Paul Mitchell Karate. When did you join the team, and what's it like to be a member?
DE: I joined Team Paul Mitchell at Diamond Nationals of 2015. It had been my dream since I was eight years old to be on the team. I would spend hours on YouTube watching people, and everyone that I thought was really good, was on Team Paul Mitchell.
I remember, on some days if I wasn't motivated to train, I would just think about being on Team Paul Mitchell, and how much I wanted to do that. I'd even get into my head and say, "If I don't do this, my competitors will get on!" or whatever I had to do to fire myself up to train.
I think Paul Mitchell is the best martial arts team in the world. I mean, there's no other team that's structured the way Paul Mitchell is, and has the lineage that Paul Mitchell has. We've been around for over 30 years, and we've had some of the best sport martial arts athletes in the entire world as part of our team. So, it's super cool to be a part of that lineage. And, you know, everybody on the team right now— these guys are some of my best friends in the whole world. Even outside of martial arts, we just hang out; we have fun. These are my brothers and sisters.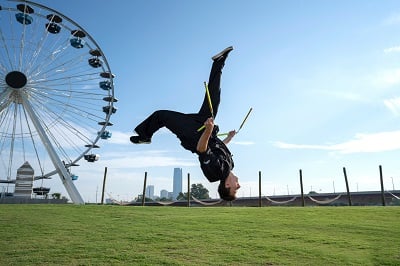 C: In addition to all the rest of this, you've just moved to Las Angeles to start college at the University of Southern California. How are you balancing the college grind with all your martial arts career?
DE: I've been doing this pretty much my whole life. There have been tons of plane rides and car rides where I'm doing my homework, or if I have some free time in the hotel room, I just try to stay on top of it. Sometimes I can't, but then I try to bounce back as fast as I can so I can stay on top of my school work.
C: What is your favorite food?
DE: (With absolutely no hesitation) Sushi, hands down!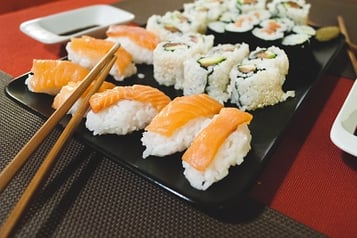 C: Okay! No room for discussion on that one. What's your favorite movie?
DE: Man, my favorite movie… I like "The Godfather." As far as comedy movies, I like "Dumb and Dumber;" that's a classic.
C: You have a career and life with a lot of facets, and a lot of goals. How do you define success for yourself?
DE: Lots of money! (Laughs) No, I'm just kidding. Well, I think there are many levels of success. One aspect of success is just doing something that you love and finding something that you're passionate about. No matter what level you're at with your passion, if you're just committing to it, that is a level of success. I think it's important that everyone finds their path to mastery no matter what it is.
C: Okay. So. Last question. You get your nunchucks, and you have to fight either one bear-sized bird, or fifty bird-sized bears?
DE: Just how big is the bird?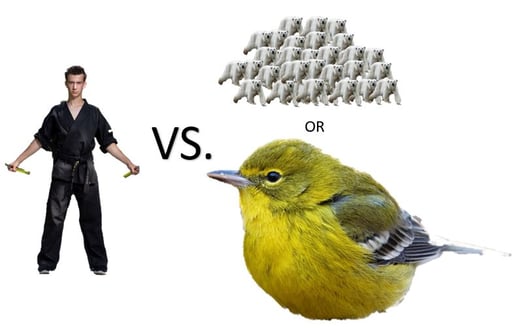 C: Bear-sized? Like, two or three of me?
DE: That's a big bird! Uh, I'd probably take the little bears. I feel like I could just step on them or something. Like, one strike would probably get a little bear out of the way, but the bird? That would be pretty intimidating, I think.
There you have it! Everything you've ever wanted to nunchaku, Danny Etkin, and hypothetical bird-bear combat.
Plus, check out Danny's Nunchaku Training Tip of the Month!
• • •