It's 1988 and Dana Hee stands atop the Olympic podium in Seoul, Korea, a gold medal around her neck. She has just won in the then-demonstration only sport of taekwondo. To the onlookers, the first-place podium looks like the easiest place in the world to stand. But Dana's road to Olympic gold was anything but smooth.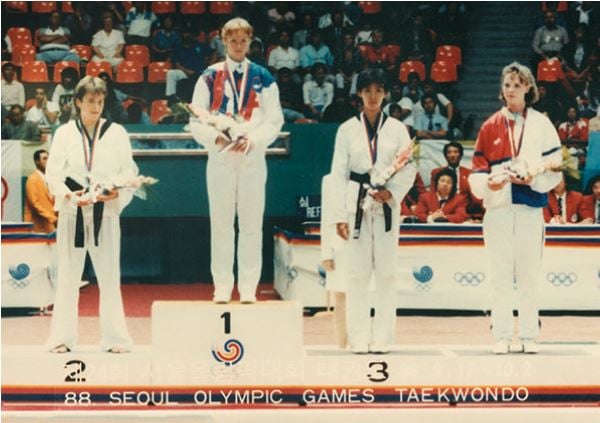 Hee in the 1988 Olympics.
Abandoned by both parents early on, then later kidnapped along with her brothers by their alcoholic father in a bitter custody battle, she ended up on the street by age 14.
When a new family took her in as a foster child, Dana's confidence and self-esteem improved and she began participating in school activities.
"When I took up the high jump, I discovered I was actually good at something," Dana says. "This was a revelation to me. I discovered that the harder I tried, the better I did, and the better I felt about myself."
Dana continued with her high jump training into college, fueled by a childhood Olympic dream. But her full schedule of classes, track meets, and recent engagement began to take their toll.
"The more I applied myself to achieve my Olympic dream, the more I became afraid that I would fail," Dana recalls. "I had fallen so many times in my life that I became afraid of the pain that I would feel when I hit bottom. So one day, after a particularly disappointing high jump event, I walked away, because I was too afraid of failure."
Dana abandoned high jumping, leaving her coach, college career, and Olympic aspirations behind. Within six months, she had dropped out of college and was no longer engaged.
But after seeing groups of people practicing karate Dana decided to try it out for herself.
"My life was falling apart," she says. "I wanted to feel like those people looked like they felt: confident and strong."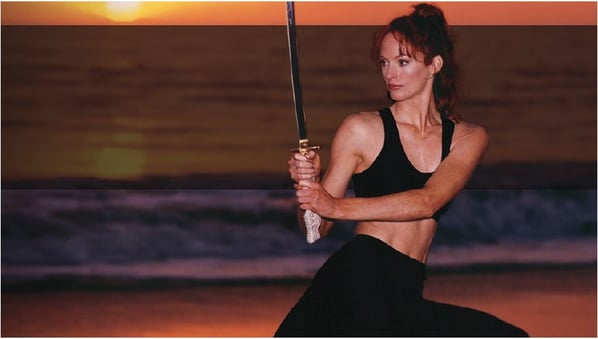 Her training in taekwondo led her to compete in the 1986 U.S. National Championships. She came away with a silver medal and a new goal: Olympic gold, this time in taekwondo.
In just two years, Dana trained hard and made it to the Olympic trials. But following a bad blow to her back, doctors told her to stop training—just three weeks before the Olympics.
But she refused: "I was like, 'Heck no! I've worked too hard to get to this point!'"
Even after going against doctor's orders, Dana's own body told her to stop, forcing her to sit on the sidelines while the rest of the team practiced.
"I decided I would do everything I needed to do, I would just do it in my head," Dana says. "I envisioned myself fighting the best opponent, executing everything with perfect precision and timing and technique."
Her mental practice paid off. When the time came for her Olympic match-ups, she walked away with the gold in the lightweight division.
"That's such an empowering feeling," Dana says. "To know that despite your fears, despite the difficulties, we can achieve so much."
Dana went on to careers in modeling, motivational speaking, acting, and stunt work for TV and film. And throughout all of her endeavors, she put that Olympic discovery to the test:
"Martial arts teaches you step by step, until you can do things you could've never imagined," Dana says. "Take your passion and take one tiny step and see what happens."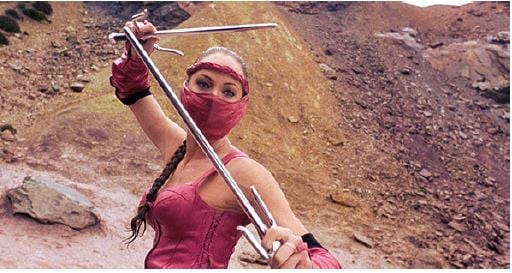 Dana Hee as Mileena in Mortal Kombat: Annihilation.