Guess what time it is? It's MARTIAL ARTS SUPERSHOW TIME! Well, okay, technically the Show is in June, but it's never too early to start thinking about it, and it's definitely not too early to start planning, especially if you've never been before. So for all you SuperShow newbies, or those of you still thinking about going, this one's for you!
Those who have never before attended the SuperShow typically have one or both of these objections:
I can't close my school; I can't make my students miss classes.
I can't afford to close my school.
Worry no more – I'm about to address both of these concerns, with a little help from Martial Arts Industry Association Executive Director Frank Silverman! Given how busy Mr. Silverman is in the months leading up to the SuperShow, I can't fly him out to each of you to have him give personal coaching, but I can do the next best thing: he was recently at Century HQ, and took the time to give some awesome advice on-video! So, let's get to it!
Concern 1: "I can't make my students miss class."
Your intentions are noble, but your thinking is backwards. You're not abandoning your students by going to the SuperShow. It's more like, you're an old-timey frontiersman (or woman), settling out in the wilderness with your kin (students). As the head of the family (school), it's your job to temporarily leave and make the journey to the nearest town (the SuperShow) to get the supplies (martial arts school/business knowledge) that will make everyone's lives better when you return (that part's the same).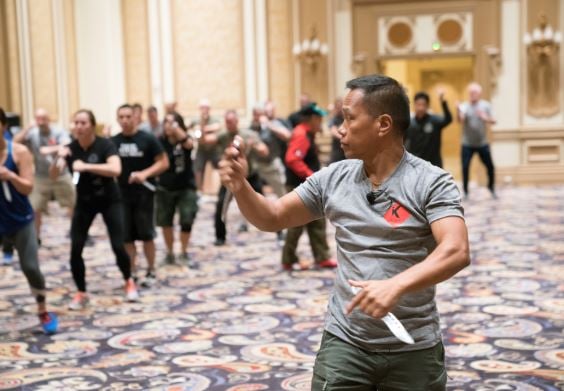 Imagine teaching your students kali that you learned from Apolo Ladra, like these attendees at the 2018 precon Bringing the Art of the Blade to Life did!
The point is, your students will be thrilled that you're going to the SuperShow. Obviously, you need to explain where you're going and what you're doing – don't just let them show up at the school to locked doors and a "back soon" note. Make a big deal out of it, because it is! Their instructor is going to the SuperShow! The biggest event of its kind in the industry! You're going to come back with wonderful ideas for improving your school – and those benefits get passed directly to them.
Frank Silverman explains in more detail:
Concern 2: "I can't afford to close my school long enough to get to the Show."
Here's the thing: if you can't afford to close your school for three days, you're exactly the person who needs to be at the SuperShow. There, you'll learn methods for teaching, running a business, and marketing that will allow you to take your school from surviving, to thriving.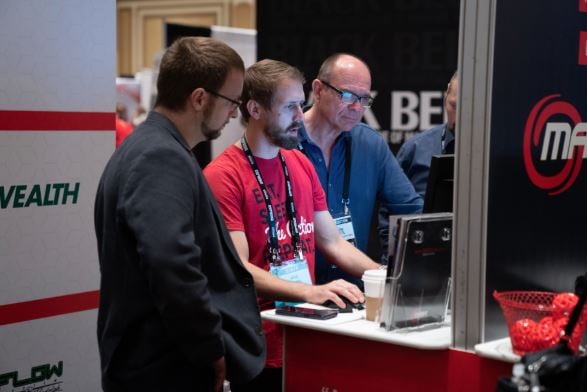 On the MASS 2018 tradeshow floor, school owners stopped by for a free 15-minute MAIA consulting session to target their personal problem areas.
Even now, you're not as financially limited as you think you are. If you start raising money now, and are smart about your budgeting, you can easily raise enough money to send yourself to the SuperShow. Here's how:
Book as early as you can. Flights, hotels, tickets – they're all cheaper the more in advance you can buy them.
Take someone with you. You can split the cost of a hotel room. Maybe this is an instructor from your school; maybe it's another local school owner you're on friendly terms with; maybe it's just your buddy Gretchen who wants to go to Las Vegas.
Spend a little extra time searching for food options. Vegas is expensive, especially if you eat at the hotel restaurants. Many travel sites are happy to recommend delicious, budget-friendly options, so give those a look!
Before you leave for the Show, hold a special event or seminar at your school to raise money. When you get back, hold a second seminar to showcase the new skills you've learned from the show (if you go to a physical training seminar – if you don't, simply teach a special skill your normal classes don't focus on). There's a twist, though! Watch the video below for full instructions from Frank Silverman:
Hope this has helped make your decision to come to the SuperShow just a little bit easier!
As SuperShow draws closer, we'll be back with more tips for getting you prepared for the Show, like what to pack and what to do while you're there! The next article in the series is popping up May 14th, so make sure to mark your calendars! In the meanwhile, the Centurion will continue to update as usual, so don't miss any of our regularly scheduled Tuesday/Thursday posts!
See you then!