Ready to head to the 2019 Martial Arts SuperShow? Not without reading this blog you're not! Featuring advice from MAIA Executive Director Frank Silverman, this second of a three-part post series will cover what you need to bring to the Show – plus the five top essential items according to Mr. Silverman (even the one he admits to forgetting sometimes!).
(Psst - the first post is here if you missed it!)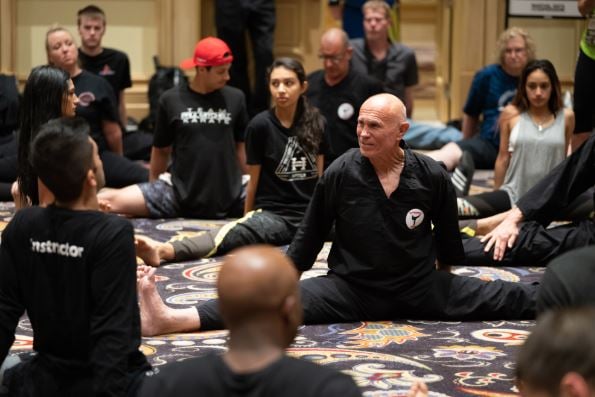 2018 SuperShow attendees participate in an Early Morning Stretching session with legendary kickboxer Bill "Superfoot" Wallace.
Let's start with the bare necessities. These things need to be at the top of everyone's list:
Comfortable shoes (you will be walking a lot).
Enough outfits for the time you'll be there, including workout clothes if you plan on attending the physical training seminars. The hotel is cool, and you'll be comfortable in jeans and a T-shirt, plus or minus a light jacket. Outside, Vegas is hot, even at night. If you plan on walking around the Strip, you'll probably want to bring shorts.
Hygiene items, including toothpaste and a brush, deodorant, a razor, and any other toiletries you think you'll need (keep in mind, most hotels will provide the basics like soap, shampoo and conditioner).
Your phone and a charger – make sure you have a charger! It will be expensive to replace once you're in Vegas, and you don't want to have to deal with a dead phone! Make sure you carry the charge cord and a brick with you to the tradeshow floor; you can find outlets there and around the Show area if you need a midday charge.
If you're sticking to a financial budget or a time budget, snacks are one of the best things you can bring. Protein bars are great for munching on in-between seminars, and will save you the cost and hassle of having to leave the SuperShow floor in the middle of the day.
Your hotel reservation info.
Note: We recommend staying at the Bellagio, where the Show and all its related events will be held. If you opt to stay elsewhere, make sure you factor transportation time into your schedule. If you've never been to Vegas before, let me warn you: walking is way more difficult that it seems. Everything is further away than it looks. I don't know how this happens; Vegas bends reality or something.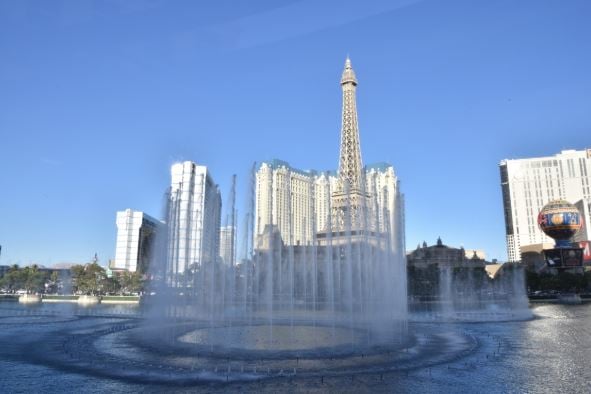 A view of the Bellagio's fountains out front.
Your wallet, which I assume contains your ID and credit/debit card/cash/checkbook.
A small bag, to carry all the aforementioned small items. Ladies, a medium-size purse should be fine (unless you're carrying training gear, too). Gentlemen, a drawstring bag or small backpack is a great investment.
If you're flying in, you'll need all these things, plus:
A book/MP3 player/travel pillow etc. Anything to make flights and airports more comfortable.
Your ID. I know I already said this one, but I'm going to repeat it. Imagine how terrible it would be to get to the airport and not be able to go because your ID's on the dresser at home!
Your boarding passes. Get them on your phone in advance, print them out the night before, or whatever you have to do to make sure you're on that plane!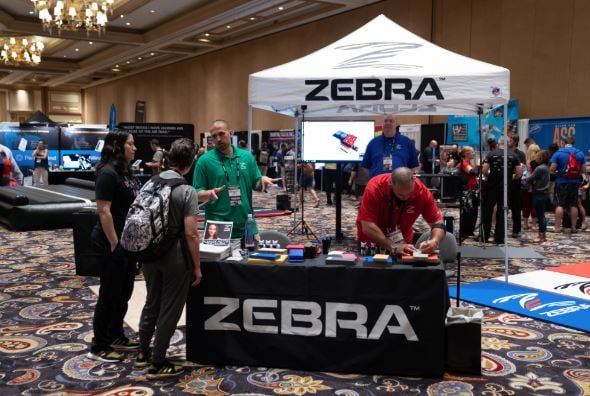 On the 2018 tradeshow floor, attendees meet with Zebra Mats representatives. Earlier, at the Zebra booth, attendees had the chance to meet pro MMA fighters Michelle "Karate Hottie" Waterson and Daniel Cormier.
International attendees, the list has a few more items for you:
Your passport. Again, don't get to the airport and get stuck!
Plug adaptors/power converters. Here's a quick guide to make sure you don't get stuck with dead or short-circuiting appliances.
Souvenir money! Okay, this one's optional. But there are few American cities more iconic that Las Vegas, so why not bring back a few reminders?
And finally, the 5 things you absolutely cannot forget:
Ready to start packing? Well, you don't have to quite yet, since the SuperShow doesn't start until July. But it's not too early to buy your ticket and start planning your itinerary!
As we draw closer to the actual date of the Show, The Centurion and Frank Silverman will be back with more advice, this time about what to do at the Show (yes, it's more than "attend seminars"). That'll be coming June 11th, so make sure you tune in then! Plus, check out all our other regularly scheduled Tuesday/Thursday posts in the meantime!