Hello! We're back with more advice for the 2019 Martial Arts SuperShow from MAIA Executive Director Frank Silverman! In the last two posts, we've covered how to raise funds to get to the Show and what you absolutely have to pack. The next logical step is what to do once you're at the Show!
Take it away, Frank!
Here are some more pieces of advice, pulled from attendee experiences over the years:
Plan out your day-to-day schedule the evening before: look at the seminar schedule and the map, and determine which seminars you plan to attend and what rooms they are in. This will take a lot of stress out of your day, and allow you to focus on what you came to the Show to learn, instead of trying to find where you're going.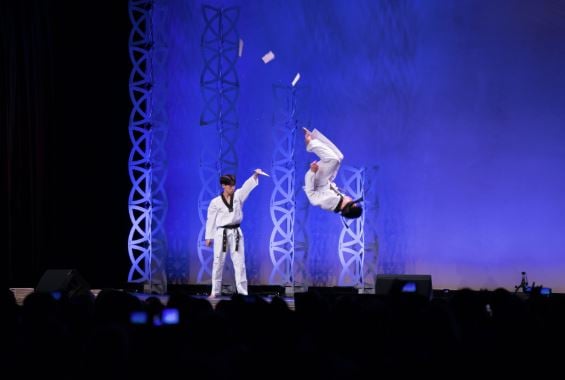 Members of the Mirme Taekwondo team perform at the 2018 Martial Arts SuperShow.
If you're going with another person or a team, it doesn't hurt to try a "divide-and-conquer" strategy. If there are two seminars at the same time that you want to go to, split up and each go to one!
Don't be afraid to "sample:" if you see an interesting seminar but think, "Well, I'm not sure how this applies to me," or see a physical training seminar for an art you're not familiar with, give it a try! The SuperShow is the perfect time for you to learn from the best-of-the-best.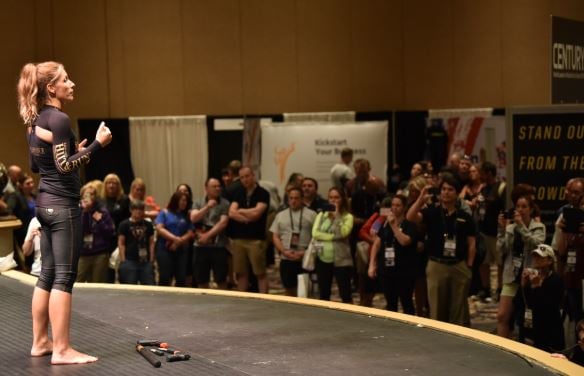 Katarina Conrad, founder of the HIIT & Run workout/self-defense program, gives a live demonstration on the tradeshow stage.
Pack a bag for the day. If you're going to the physical training seminars, make sure you include your gear. You'll also want a snack, phone and phone charger, and wallet/ID. It goes without saying that you should keep an eye on your bag!
Don't skip the Tradeshow floor! Sure, maybe you're not in the market to buy anything new – right now. But the whole point of the Tradeshow floor is to display new and innovative products – you might find something that offers a solution to a problem you've had for a while. You might also see something you love that's out of your budget now, but in four months' time, once you've had the chance to implement the strategies you've learned at the Show, you may discover you have more disposable income. You'll also have been able to personally meet the vendors at the Show, so you'll have a working relationship with them before you even buy their products!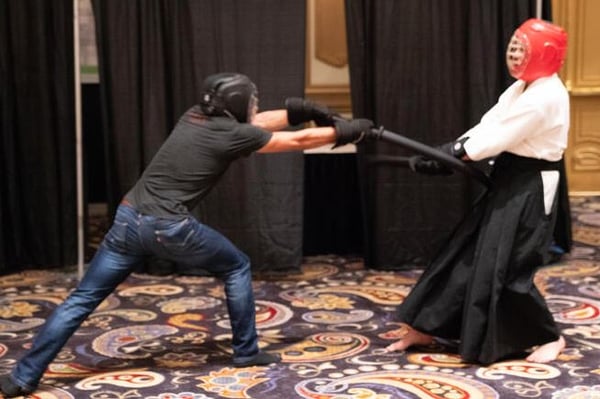 Using ActionFlex swords and sparring headgear, 2018 MASuperShow attendees got the chance to spar with a samurai.
Say "hi" to people! One of the beautiful things about the SuperShow is that it gives you the chance to interact within a martial arts-centric environment. Everyone you bump into at the Show either trains, teaches, owns a school or makes products for martial arts schools. They all have the same love of martial arts as you, so use this as an opportunity to network, or simply to strike up conversation and make new friends!
And, last but not least, like Mr. Silverman said – have fun! It's worth mentioning twice. Yes, you're here to learn, but you're also in beautiful Las Vegas. Go see some sights, like the Bellagio's botanical gardens and fountains (both free!) or take in a show, try a new restaurant, or simply explore! You'll come back with both the tools you need to improve your school, and wonderful memories that will last a lifetime!
We can't wait to see you there! If you haven't already, be sure to get your tickets now!