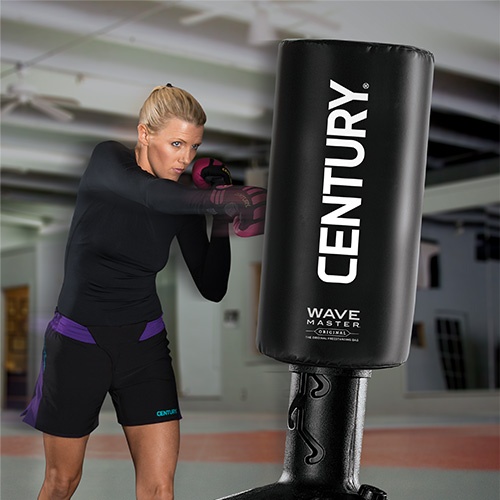 The C

entury® Wavemaster®

line of punching bags is held in high regard by the world of martial arts. If you're new to working with a freestanding bag, it pays to learn proper striking technique prior to beginning your workout regimen. Your body will thank you.

Training Equipment

Safety is an important consideration, so before we start talking about technique, let's go over basic training equipment. Working out with a training bag, no matter the type or brand of bag you use, can be damaging to your hands. It's a common misconception that if you are strong, you'll be able to handle striking the bag bare-handed. In fact, this could not be more wrong.

The stronger you are, the more likely you are to strike the bag with enough force to injure yourself. This is especially true when you first start using a bag and your hands are less conditioned. Proper hand covering, such as hand wraps or bag gloves, is a must. If you're planning to work on your kicks with the Wavemaster, you might want to consider wearing shin guards and boots or other martial arts-safe shoes. Your feet and shins could suffer damage from unprotected bag workouts.

Striking Technique

It's tempting to start training with all the speed, strength, and ferocity you can muster. This is not a good way to work with a training bag. Training with a Wavemaster can help you to develop serious punching power, but there is much more to technique than raw strength.

Working a training bag without considering the speed and recoil of punches, or trying to punch through the bag with every strike, can create serious flaws in your fighting style. Before you begin a striking workout with a Wavemaster or any other bag, make sure that you know:

• How to properly make a fist and which knuckles to strike with
• The ideal distance and correct angles for the strikes you are practicing
• The correct alignment of your fist, wrist, and forearm with the bag

When throwing jabs or straight shots, it is important to hit the Wavemaster or training bag with your knuckles flush with the bag. Hitting with your wrist at an angle can overextend and potentially sprain the wrist, a common boxing injury.

When going for a hook, you should be closer to the bag to achieve more power. Straight shots and jabs are designed to be thrown from a greater distance, but the hook should be thrown from close range, or even when you're up against the target. The knuckles should also be flush with the bag to help avoid injury.

Body shots are similar to hooks in that they are most often thrown from close proximity. However, for a body shot the hands are typically turned with the palms facing up. Remember to hit with the knuckles flush to the bag.

Kicking Technique

It's vital to observe proper kicking technique when working with a Wavemaster bag. This will help prevent injury and prolong the life of your equipment. First, make sure that you know your kicking range. Throwing kicks from too close to the bag could jam your knee and will also create problems with your fighting style. Always observe correct foot and hip positioning for the kick you are practicing as well.


The Wavemaster series of free-standing bags are excellent tools for developing your fighting style. Using proper technique and taking safety precautions will make you a much better fighter in the long run. Find Wavemaster training bags to sharpen your fighting skills and improve your fitness at

Century Martial Arts

.

Shop the entire Wavemaster colle

ction now!