At Century, we love martial arts. It's a plain and simple fact. How can you not love them when you're immersed in them every day, not just in training but in the behind-the-scenes work that goes on at the world's leading martial arts equipment supplier? So, because it's Valentine's Day, I wanted to take a moment to celebrate that love of the arts and share it! I asked a handful of my coworkers to answer the question, "Why do you love martial arts?" Here's what they had to say:
Bonny Overly
Photographer
Judo black belt and Jeet Kune Do student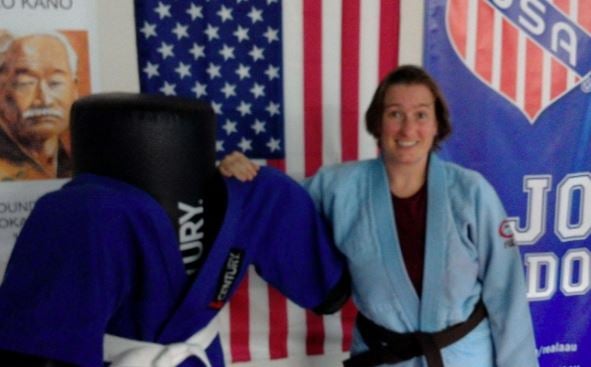 Black belt Bonny!
The reason I love martial arts is that it keeps me moving. Sounds simple, but there are always days that are harder than others.
You see, about five years ago I was diagnosed with rheumatoid arthritis. I had slowly stopped moving to keep from hurting. It didn't take long for me to realize that I had to get moving. So I signed up for Judo classes at the YMCA with my three children. It was an amazing experience! There was so much energy in the room and everyone had fun. When we went to leave that first lesson, I had trouble getting back up stairs. That's when I realized that I was going to have to get into a lot better shape if I was going to continue training.
After years of training, I've earned my black belt and I've come to realize that I have gained so much more than a belt. The idea that I have to "keep moving" applies to so many areas of life. Martial arts makes me take better care of myself and encourages me to be disciplined. It's given me an outlet as my three children became three teenagers and life's trials hit home. It's given me a family when we moved to a different state. I have become more self-confident and I have taken great pride in watching my children grow and learn. Now the cycle continues and I'm learning to be the one that can pass on all of these benefits to others and I love it!
Kyle Young
Director of Digital Strategy
Brazilian jiu-jitsu brown belt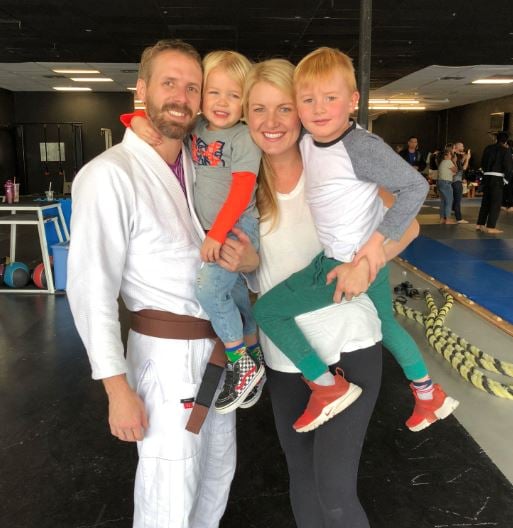 Kyle and his wife and kids at his school, right after he received his brown belt!
Jiu-jitsu training time is a sacred part of my daily routine. It's a time to disconnect from technology and to focus on becoming a better version of myself. From the moment we first step on the mat, I'm immediately free of the stresses and pressures of my personal and professional obligations, though I'm also thrown into a set of new challenges of self-awareness, timing, pressure, leverage, technique and cardio training. It's an amazing feeling to be thrown into a live-roll and to come out on the other side (whether the outcome is good or bad) as a stronger person, a more resilient person and someone who played a vital role in helping one of my friends build new skills.
The brief history of Brazilian jiu-jitsu (the art is just over 100 years old) is also inspiring. It's fascinating to see the growth and evolution of a discipline and sport that has proliferated through the passion of a few pioneers. The people like Ricardo Liborio, Rickson Gracie, Marcelo Garcia and many others are timeless stewards of their gentle art which is much greater than that – it's a lifestyle – and one that I hope to fully embody on my jiu-jitsu journey.
Martial arts have helped me cross paths with such a diverse set of people whose experiences have, in many ways, shaped my worldview. It's helped me understand the value of mentors, training and accountability partners, and ultimately that we're all here to learn and share our knowledge. The people I've met along the way have opened so many new doors and led to opportunities that make me feel like the luckiest guy in the world…and that's why I love martial arts.
Natasha Key
Human Resource Generalist/Risk Management Specialist
Taekwondo blue belt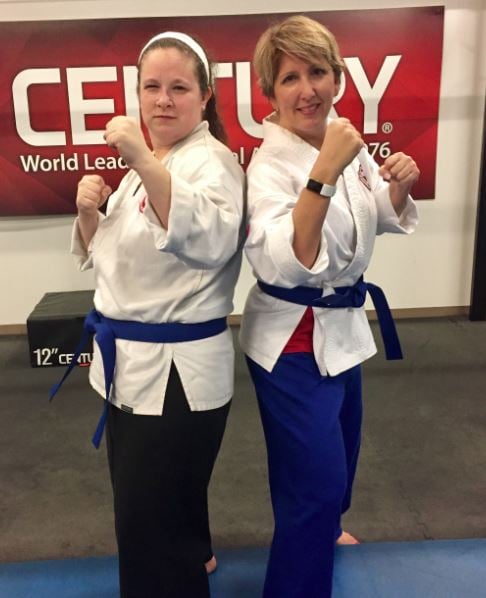 Natasha (right) and training partner/coworker Nikki Cagle.
I'm approaching this like a word association game: what words immediately jump to my mind with this phrase? I love martial arts because it's: physical, challenging, empowering, healthy and fun; it fuels personal growth, friendship and kinship; and it helps me overcoming obstacles. These are just a few things that come to mind immediately. I'm sure if I thought about it, I could come up with dozens more.
I've only been taking classes for about a year now, but I have been surprised at how much I enjoy it. It has allowed me to develop friendships with others at Century whom I wouldn't have gotten to know otherwise. I really wish I had the time and energy to take multiple classes! I started out in Taekwondo, so I want to stick with it to get my black belt, but I've also been to a few of Paul (Webb's) Jeet Kune Do classes and I LOVE the idea of learning how to defend myself. If some bad guy really tries to hurt me, I want to know that not only can I get away, but hopefully I'll get to rip his ear off and gouge out his eyes in the process (okay, maybe I shared just a little too much here…)!
To conclude: I love it because it's a great workout and I enjoy learning something new.
Jeff Pham
Digital Marketing Team
Taekwondo brown belt; Jeet Kune Do student; tai chi training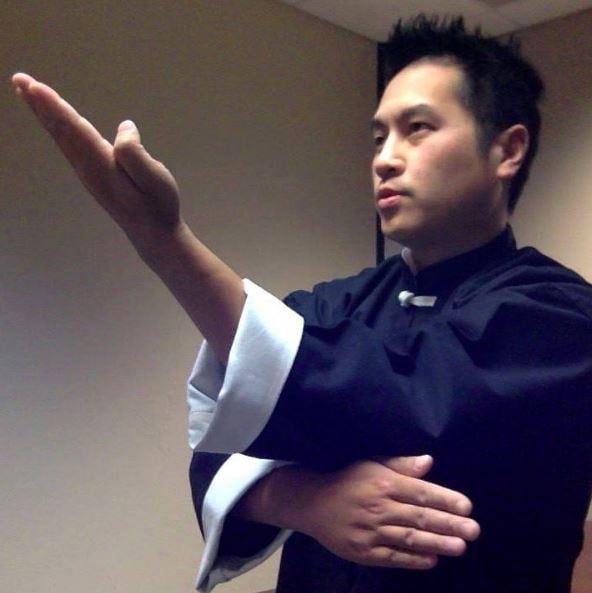 Jeff practicing his forms.
Growing up as an Asian kid in Middle America, I didn't have a lot of Asian heroes to look up, but the ones I had were legendary martial artists to Bruce Lee and Jet Li. At home, my brothers and cousins studied Kung Fu, so we organized sparring matches instead of random fist fights. Martial arts are a proud part of my heritage and a tradition that I am privileged to continue.
Martial arts has strengthened my spirit. You don't know your limits until you test them. There is nothing more humbling than getting tapped over and over again as a BJJ white belt. Discipline kept me going to class, respect from classmates kept me rolling, honor for my instructors kept me from quitting on myself. Martial arts gave me the confidence to have faith and patience in life's journey.
Martial arts has strengthened my body. A white belt's first sloppy sidekick is now a quick jamming side kick counter attack. Taekwondo has given my body the mechanics to execute techniques that win a sparring match and the endurance to last three rounds on the mat. At the age of 40, martial arts gives me the body and longevity needed to keep up with these younger guys and live healthfully.
Martial arts has strengthened my mind. Fists and elbows wildly thrown at punch mitts in my first Jeet Kune Do class mirrored the jumbled chaos in my head. Then I was taught to breathe, observe my surroundings, orient myself, make quick decisions, and act purposefully. Martial arts gives me the mental acuity needed to be decisive and precise, whether on the mat or in the conference room.
Drew Brower
Production Artist
Senior Student in Jeet Kune Do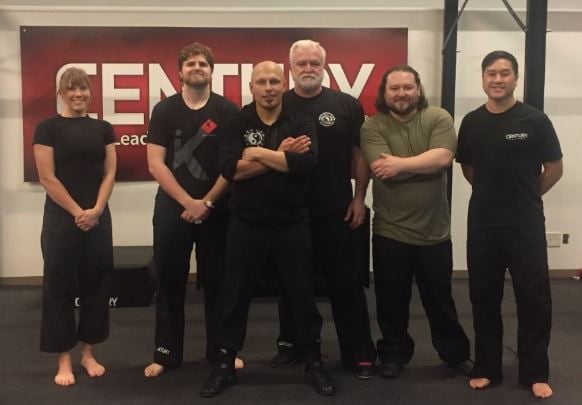 Drew (second from left) with guest instructor Sifu Harinder Singh (center left), Century President Paul Webb (center right) and training partners after a class at Century's on-site training facility.
To be honest, I wasn't sure how I felt about martial arts to begin with. The idea of someone hitting me never sounded appealing. Now, however, I have a new admiration for not only the martial art that I personal study but all the arts as a whole.
I love challenging myself more and more each day, with my training partners as well as my instructor. The encouragement that I receive from them not only pushes me in class but has helped build my confidence in myself to get through any obstacle in my way. Don't get me wrong, I love to train with weapons, but after taking classes with different instructors who have different ideals and styles, I can say martial arts isn't all about the violence.
I love martial arts because it not only helps you. It helps you and the people that you train with have the confidence to keep moving forward in their training or in their everyday lives.
Justin Haggard
Social Media Coordinator
BJJ white belt; previous muay thai training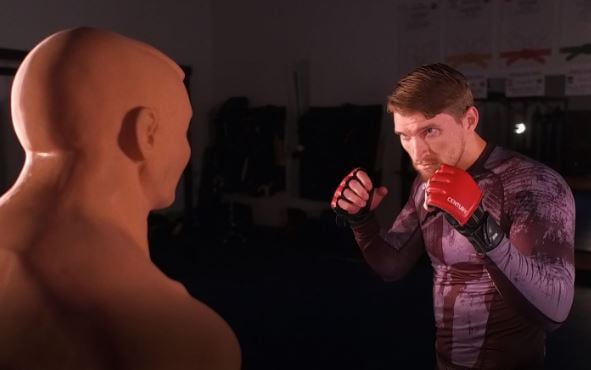 Justin training on BOB.
Martial arts help me in many different ways. Physically, Brazilian Jiu-Jitsu is an incredible workout in both strength and conditioning, even if you just spend 15 to 30 minutes rolling each lesson. Mentally, it helps me to de-stress and deal with some issues that I developed in the military. Jiu-Jitsu is a martial art that never gets old, because you are constantly learning, and each person you roll with has a different style, strength, and set of techniques. I suppose I love it because it pushes me both mentally and physically, while building community through the brothers that I train with. Being bigger, stronger, and faster doesn't really mean much in BJJ if your technique isn't on point.
Sarah Lobban
Copywriter
Senior Student in Jeet Kune Do; previous muay thai training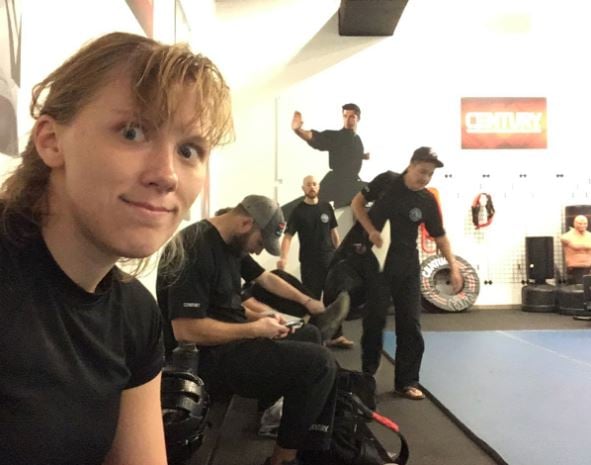 Also after the Jeet Kune Do test at Century. JKD hair, don't care.
As the blog editor, I had the pleasure of getting to read all these submissions first – but I made a huge mistake in doing so before I had written anything! I don't train in all the same arts as my friends, but I agree with all their reasons and now I'm struggling to come up with something original. So hear it goes:
I love martial arts because when I walked into the tiny strip-mall studio in my college town, I was a directionless 20-year-old with enough brains to keep me afloat in school but no plan beyond I wanna write.
Martial arts taught me how to push myself in a specific direction. I lost my first fight, but not the mindset I'd learned working to prepare for it.
Martial arts drew me to Century. Without that existing interest, I can't say whether that online job application would have sparked the same gotta-have-it mentality that it did. Heck, without martial arts, I probably wouldn't have access to that mentality.
Martial arts – and my job here – have given me something I can work towards each day and feel like I'm making a difference. It's a team effort, and I know that we – me, my coworkers, you, and every other martial artists, instructors and school owners out there – are part of something bigger than all of us. You could call it a legacy, or a lifestyle, but I think there's more to it than that. I love that martial arts lets me be part of that.
…and I love that it has (hopefully) given me the willpower to not blow my entire grocery budget on discount chocolate tomorrow. We'll see.
Happy Valentine's Day, everybody! I'm not trying to take away from the special connection you have with your human love interests, but I would ask this: why do you love martial arts? Really think about that, and I think you'll end the day with a newfound appreciation for your training, and the people who have been part of your journey. And love, in general, is what this holiday's all about, right?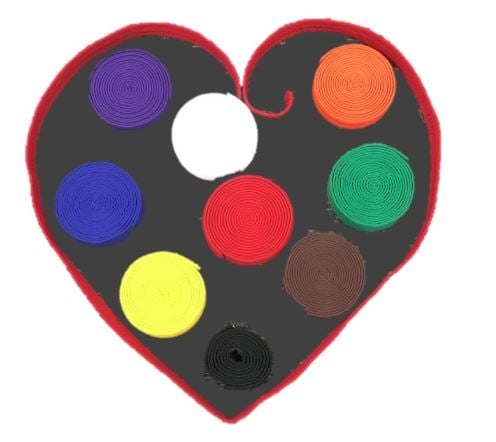 FYI this is a heart I made out of belts. It's not just a terribly drawn heart. Do you know how hard it is to make a heart out of belts? You try it.