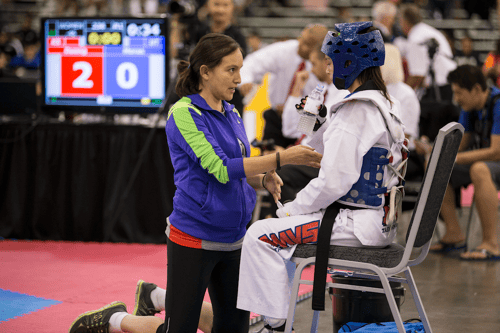 I was losing my final match by 10 points. It was the second round out of three, and I couldn't even understand what was happening around me. I was losing my chance to be part of the US Collegiate National Team. I'd been training for this the whole year, for this moment where I'd be able to compete and start my way on the road to the World University Games in Korea. And I was losing. Time! We had one last break before the final round. I walked over to my coach- who is also my sister- and sat down on the chair. I was exhausted, both mentally and physically. But, this is the exact moment that you train for as an athlete. For these moments, when the stress level is almost unbearable, when your lungs are burning and you don't think you can last one more kick. This the moment when you decide whether you're going to be a champion.
My sister helped me regain focus and concentrate on the task at hand. I walked into that third round 10 points down, but I knew I was going to be walking out winning. Desire and willpower took over. I scored 3 points, then 1 more. Then I lost 3, by this point we were in the last ten seconds of the match. I literally had no time. There's a famous quote by Bruce Lee that says, "Empty your mind, be formless. Shapeless, like water. If you put water into a cup, it becomes the cup. You put water into a bottle and it becomes the bottle. You put it in a teapot it becomes the teapot. Now, water can flow or it can crash. Be water, my friend." And that's what I did. Instead of giving in to the stress and frustration, I let my body and mind flow. The next thing I knew, I was standing over my opponent who was on the ground. The referee did an 8-count, looked over at me and announced me the winner. I had won in the last few seconds by knock out.


I had achieved my goal of making the US Collegiate National Team and representing the US at the World University Games that would be in Korea in a few months. And to top it of, I was named Female Athlete of the Year. I was ecstatic. These are the type of goals that I train every day for.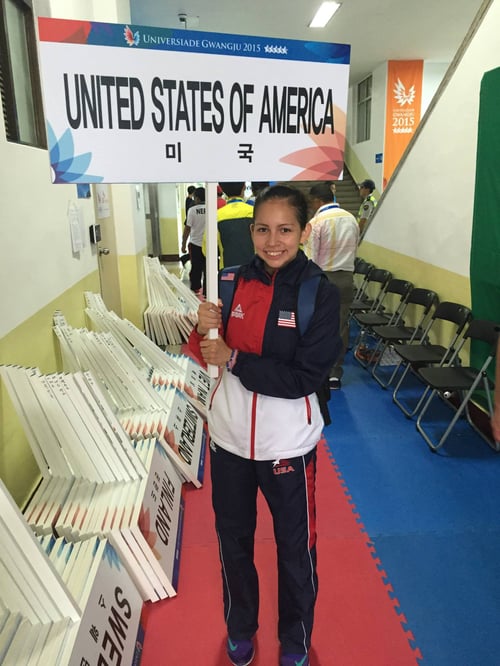 My training to prepare for competitions is twice a day for about an hour and a half each session, six days a week. I always take one day off to recover and keep my life in balance. Training varies and can consist of Taekwondo-specific workouts like paddle kicking or hogu drills, visits to the weights room and gym with my strength and conditioning coach, sprints, stretching, resistance training, and more. Besides training, I balance my time with school (I'm a senior in college this year), teaching at my family's martial arts schools, and managing my social media. I recently started a YouTube channel and have fallen in love with sharing videos that can reach and help so many people. Another big part of training is how I eat. I fight in the -46kg Finweight Sparring division, so I have to maintain that weight as I weigh in at every competition. I don't 'diet,' but instead I make healthy choices in what I eat everyday as I want to keep my body strong and healthy.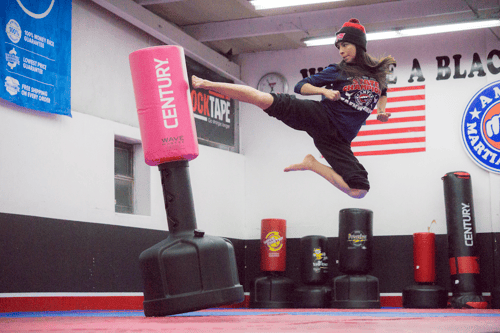 Competing thus far has been an incredible experience and I've loved traveling the world to represent the US. I would recommend it to anyone who is up for a challenge and has a love for learning. The biggest success I've found hasn't been in the medals I've won, but rather in the lessons I've learned and strong mindset I've developed. I hope to continue competing and growing as an athlete and pursuing my passion in this martial art.