So you've just bought your very own training bag – woo! Perhaps you picked a versatile freestanding bag. Or you realized that it was a heavy hanging bag that was missing from your life. Maybe you even had an open wall in your bedroom for a speedbag! Whatever the bag, you know you're in for an amazing workout – as soon as you get one more thing!
You're smart, and you know that you need a pair of gloves before you can begin bag work. And here's where people make the mistake that costs them their training efficiency, and possibly even leads to injury.
Buying the first pair of gloves you see, or buying the cheapest gloves, can backfire. Different gloves were intended for different styles of training, dictated by the bag you have. If you've already invested in a bag, don't cut corners choosing gloves! Find a pair that fits your bag.
If you have a…
Wavemaster or Torrent (any bag)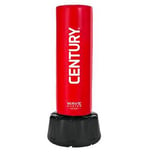 Wavemaster 2XL Pro
These freestanding heavy bags are amazing for multiple reasons – but we won't get into that here. All you need to know for choosing a glove is that, although the feature a weighted base as heavy as (or heavier than) a hanging bag, the bag section is foam, with a plastic core.
BEST GLOVES: Anything with closed fingers. Strive Machine Washable Gloves would be my top choice, for the washability factor.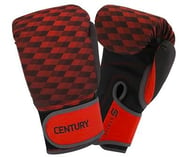 Because you're striking foam and not dense sand/fiber filling, you can get away with less padding on the gloves (although if you like larger gloves, they'll work too!). The only reason I recommend closed fingers is because, if you're punching hard and fast and miss or land a glancing blow, you can still get a bad friction burn or scuff your fingers if they're exposed. If this doesn't bother you, or you have tougher skin than me, open-finger gloves would be great!
Versys (any bag, except Versys BOB)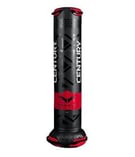 Versys VS1
BEST GLOVES: Brave Grip Bar or Women's Grip Bar Bag Gloves, Centurion Gloves, Creed Wrist Wrap Bag Gloves (pictured)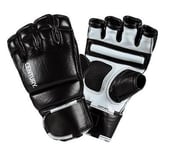 Versys bags were designed for striking combos as well as takedowns, grappling and ground-and-pound work, so again, you'll want individual-finger gloves to allow you take full advantage of that. The weight of the bags is distributed more to keep them upright more than to provide impact resistance (which is what hanging heavy bags offer), so while you don't need super-thick padding, you will want something a little more substantial than you'd use for the speedbag. Bonus: all the gloves in this list have a built-in grip bar, so while you're working your technique, you'll also be building correct fist formation!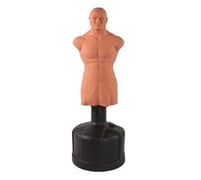 BOB is a unique bag. He's made of dense foam with a "skin" cover. Many people who get BOB do so because they want to practice their aim on a "human" target. Others just like the idea of an angry-looking bag (inspiration for punching, maybe?). The gloves you want for BOB depend more on how you plan on using him.
BEST GLOVES:
For tactical/MMA: Brave MMA Competition Glove, Brave Grip Bar (pictured) or Women's Grip Bar Bag Gloves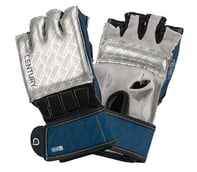 Training with BOB is about more than building power. You should also be using it to refine technique. Self-defense and tactical arts use many non-sport techniques like eye jabs, slaps, and others that require fingers or an open hand, so you need open-finger gloves. If you're training for MMA, it's better to train using the same style of gloves used in the sport.
For general training: Strive Machine Washable Gloves, Brave Neoprene or Women's Neoprene Bag Glove (pictured)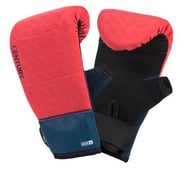 BOB has a little more "squish" than a heavy hanging bag, so you don't need gloves that are quite as thick. There's nothing stopping you from using thicker gloves, of course, but slimmer gloves will let you put more emphasis on speed. Some people, especially those with smaller wrists, may still want extra support. If that sounds like you, try using a pair of hand wraps under the gloves.

Creed 100 lb. Heavy Hanging Bag
These bags tip the scales at 80 lbs. minimum, and go over 100 lbs. at the larger end. This weight comes from the filling – a firm mix of sand and fiber/fabric scraps. These bags are meant to be hit hard.
BEST GLOVES: Creed Heavy Bag Gloves, Brave Boxing Gloves (pictured), Drive Boxing Gloves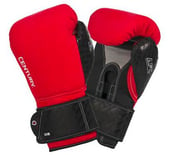 Look for gloves with full-finger coverage, thick padding, and wrist support. Punching a heavy bag without adequate padding and support is a good way to sprain something, especially if you're new to bag work. If you invest in a heavy bag, but buy cheap, flimsy gloves, you've just wasted your investment in the bag because you won't safely be able to strike at your full capacity. Using hand wraps along with your gloves is also a good idea!
Speedbag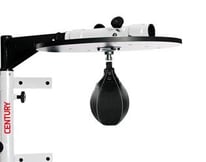 BEST GLOVES: Brave Bag (pictured) or Women's Bag Glove, Neoprene Quick Wrap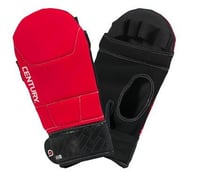 These gloves (or wraps) are all lightweight and have a slim, low-lying profile. This is ideal for a speedbag – even if you strike as hard as you can, the way the bag keeps you from absorbing any real impact, so you need very little wrist support or padding. In fact, you shouldn't be hitting a speedbag all that hard in the first place, since it's meant to improve reflexes and, well, speed. You don't want large, bulky gloves that will get in the way of striking the small target either.
Hope that helps you find the right pair of gloves! 😊
Got more questions? Just remember, you can always give us a call, shoot us an email at socialmedia@centurymartialarts.com, or reach us through our Facebook page!