When many people, especially non-martial artists, think of martial arts, they imagine a predominantly male environment. Although it's true that the gender split is closer to 60-40 rather than 50-50, women are well-represented in modern martial arts. What may come as a surprise to everyone, though, is how long women have been involved in martial arts in a sport capacity, rather than necessity-of-life/self-defense capacity.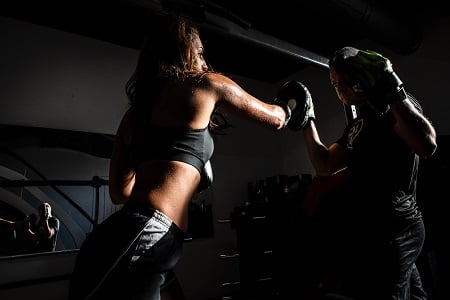 A woman trains in sport boxing (modern day).
Take a look at boxing, one of the first sport martial arts to make it big in the west. Female boxers can be traced back some 300 years, to Victorian England, where they competed wearing undergarments and pumps. If you think the women boxers of today are tough, you can certainly appreciate those who came before.
Bare-Knuckle Matches
Boxing has a long and storied history, rising and falling in popularity through the ages due to a variety of influences. The first recorded fight took place in London in 1681, a bare-knuckle match that is the forerunner of modern boxing. But early boxing did not have the same rules as today's sport. It was extremely violent, allowing moves that included eye-gouges, head butts, choking and more; some boxers died as a result. It was in this atmosphere that Elizabeth Wilkinson Stokes and other women in the U.K. took up the sport.
Female Boxers Enter the Ring
Although Stokes probably had fights that went undocumented, the first appearance of her name in print came in 1722, when she beat Hannah Hyfield in a 22-minute match. In the fashion of the day, men and women boxers promoted themselves by boasting about their abilities while challenging other fighters. Stokes called herself the "European Championess" and fought at various venues. While challenges to fight were printed in newspapers throughout England, the bouts themselves were not covered. However, it appears Stokes remained undefeated throughout her career.
Women Boxers Fight in Pairs Matches
Boxing was a popular event in Great Britain, and although many did not favor the inclusion of women in the sport, others supported and even reveled in it. Elizabeth also fought in pairs matches with her husband, James Stokes. It was common during the early 18th century for female boxers to marry and fight alongside their husbands in couples' events throughout the British Isles. Some of the contests during Elizabeth Stokes' career include:
Stokes vs. Hanna Hyfield, 1722, in Hockley, England
Stokes vs. Mary Welch, 1726, at Stokes' amphitheater in London
Elizabeth and James Stokes vs. Mary Welch of Ireland and future husband, Robert Baker, 1727, in London
Stokes vs. Ann Field, 1728, in Stoke Newington Parish, England
Elizabeth and James Stokes vs. Sarah and Thomas Barret of Ireland, 1728
Elizabeth and James Stokes vs. Mary Waller and Charles Wright, 1729
Weapons were also used in some of these early boxing matches before specific general rules were established. Although most of her bouts were boxing-only events, Stokes was also known for her skills in using a dagger and short sword.
(Can you imagine going to an MMA fight and watching one of the competitors pull out a knife mid-round?)
The Entertainment Aspect
Boxing was banned in other European countries until the early 19th century. While it grew in popularity elsewhere during the 1800s, female boxers fell out of favor in England, perhaps due to an evangelical Christianity movement that sent the sport underground. Female martial artists became a form of entertainment and were seen mainly in night clubs and shows. Yet there had always been some sensationalism in promoting women boxers. An advertisement for one of Stokes' 1726 bouts said the participants would fight in petticoats that fell just below the knee, drawers, stockings and pumps.
(Can you imagine going to an MMA fight and seeing the competitors come out in dresses and high heels?)
First World Championship Bout
Women's boxing saw its first world championship bout in New York City in 1888, between Alice Leary and Hattie Leslie. The fight was ferocious, with both combatants receiving black eyes before Leslie won the match. The press belittled the women and the event. They caused such a commotion in the community that both women, plus Leslie's husband and many others, were arrested and charged with "aiding and abetting a prizefight." Yet female boxers continued to participate in the sport, and the 1904 Olympics, held in St. Louis, hosted an exhibition match.
Fighting for Recognition
Women continued to fight on an amateur basis around the world. In the U.S., the first female boxers to be granted professional licenses from individual states were Marian "Lady Tyger" Trimiar, Claire Piniazik, Jackie Tonawanda and Cathy Davis in the mid-1970s. After facing several lawsuits, the state of New York also began licensing professional women boxers in 1978, with the U.K. finally issuing licensing 20 years later.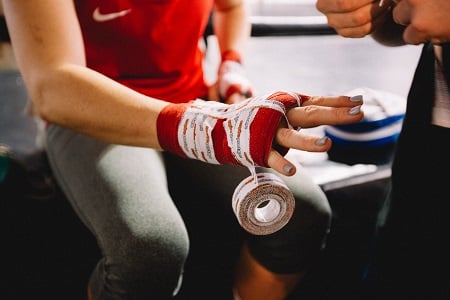 The Olympic Committee reinstated women's boxing at the 2012 Games, and the sport continues to ride a roller coaster of increased and reduced popularity around the world. Today, female martial artists are taking the spotlight as women in the U.S. continue to grow as a group within the many different martial arts disciplines.