When Alec Brown was born, his parents noticed his legs bent oddly. Even when he began to walk, when he would stand he kept his legs bent at the knees as though crouching. It became apparent that he almost could not physically straighten them. When he was four years old, Shriners Hospitals for Children in St. Louis diagnosed Brown with cerebral palsy, a condition that affects the brain's ability to control muscles.
Brown's parents were faced with several difficult choices for his treatment. One doctor suggested cutting Brown's hamstrings. While that could have helped straighten his legs, the surgery would have permanently weakened his muscles and potentially confined him to leg braces for the rest of his life.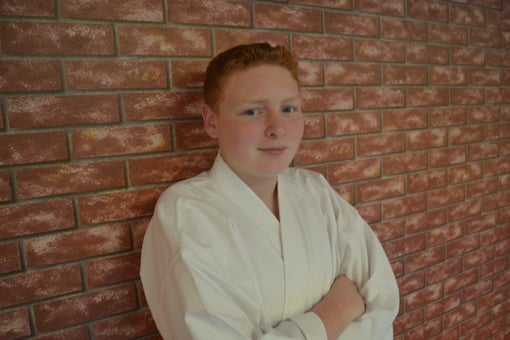 His parents said no. It was better he learn to stretch the muscles his brain kept trying to contract, they decided, even if the CP would mean he would always have reduced flexibility. Doctors at Shriners suggested that martial arts would provide a good method of stretching the child's legs. So, at age 4, Brown enrolled at East-West Karate in Evansville, Indiana, with instructor Lori Stanley.
Interestingly, Brown didn't know he had CP until he was 11 years old. His parents told him only that he had a muscle problem, but they did not name the condition. That way, they felt that Brown would be able to prove to himself that he could do anything another kid was able to, without a label of CP getting in the way.
"They didn't want me to have an excuse for not being able to do things," Brown says.
And not only has Brown been able to keep up with his peers, he has excelled. He is a third-degree black belt in karate and has competed abroad twice, in the 2014 World Kickboxing and Karate Union World Championships in London, England, and the 2015 WKU World Championships in Albir, Spain.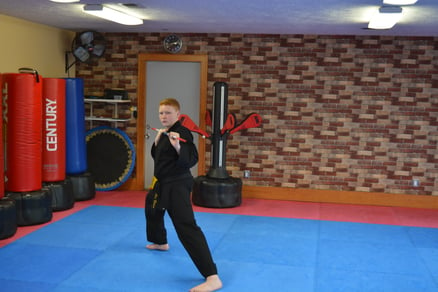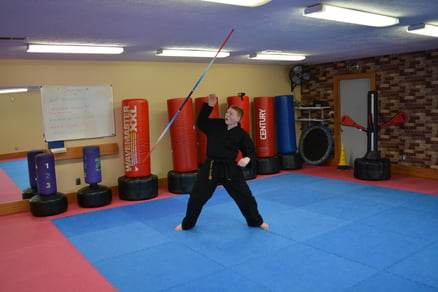 Brown training.
"It's a really great experience," says Brown. "The competition's really hard and challenging, but it's worth it."
Brown specializes in the bo staff. His favorite event is musical weapons, where he creates routines choreographed to music. For inspiration, he studies video tutorials of his favorite bo performers.
"I watch Trace Megellas, Nick Bateman, Jackson Rudolph, and Nate Andrade," Brown says. "I learn tricks from them, and put the basics together to make my own form."
Just like his bo role models, Brown sets high expectations for himself. However, he has an additional challenge. Due to CP, he has sensory deprivation in his hands, which makes it difficult for him to tell how tightly or loosely he is holding something. Brown can partially compensate by using a heavier bo, but mostly, it takes hard work and dedication. Fortunately, he has plenty of both.
Brown has a lot to be proud of, certainly. He is a role model to his younger brother, who is following Brown's karate footsteps. He is a Patient Ambassador for Shriners Hospitals, as well as an up-and-coming sport karate competitor. But he is quick to praise the others around him rather than claim credit.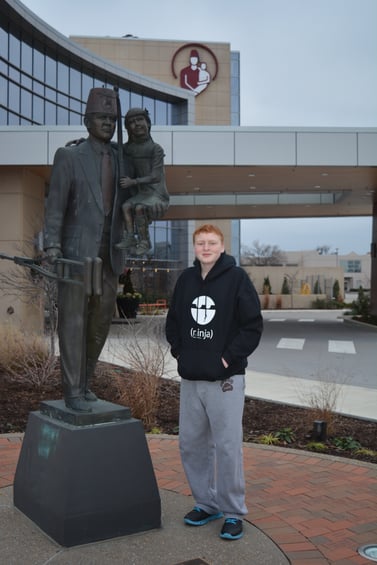 Alec outside Shriners Hospital in St. Louis, MO.
"I really want to give a shout-out to my instructors," Brown says. "They've been really patient and encouraging to me, and they've never given me an easy path. I'm really grateful for my friends at the school, too. I couldn't do any of this without their support. They've never treated me as someone with CP, just another kid with the same goals as them, and that has meant a lot to me."
Karate gave him the confidence and ambition to push himself, and Brown has no plan of stopping his martial arts journey any time soon.
"Eventually I want to get on stage at a NASKA tournament and get a gold medal at the WKU Tournament," he says. "I just want to keep doing karate for as long as I can."
UPDATE: This story was originally featured in Century's Journeys section in 2015. Recently, his father reached out and let us know that Alec is, in fact, still doing karate! He has shifted from a weapons focus to a sparring one.