Like most kids, the young Ernie Reyes, Jr. loved movies. Growing up in the '70s and early '80s, he attended the first runs of blockbusters like "Indiana Jones," "The Terminator," and several Bruce Lee films. Reyes watched these onscreen adventures with rapt attention. He dreamed of finding his own way into the action, onto the screen like his cinema heroes.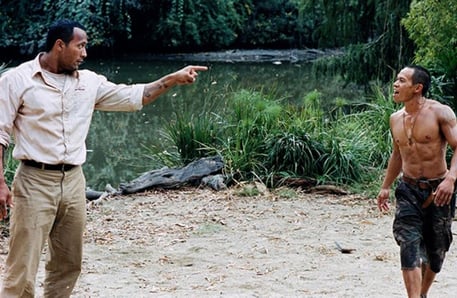 Spoiler: he did. If you're in a movie with Dwayne "The Rock" Johnson, you know you're doing pretty good.
Reyes didn't realize it at the time, but he was already close to making his dream a reality.
Reyes was born and spent his childhood in San Jose, California, among the sprawling hills and palm-studded streets. His father, Ernie Reyes Sr., was a successful martial artist and owner of the renowned West Coast Demonstration Team, a performance and competition troupe.
The younger Reyes began martial arts training at the age of six. It soon became clear he was something of a prodigy, gifted with technical proficiency well beyond his years. By the time he was nine, he had earned his junior black belt and joined the West Coast Demo Team.
After winning title after title in the children's forms division at major national tournaments, Reyes was moved to the adult division – where he also won. For five years, Reyes was the only child to be ranked among the top 10 adult forms champions in the U.S., and, at age 10, the first and only child to win a Grand Champion title at a national karate tournament.
With his natural flair for showmanship, and Hollywood less than a day's drive away from his home, it was inevitable that Reyes was drawn to the film industry. His first break came in 1985, with the film "The Last Dragon." The producers wanted an authentic martial arts feel, and sought out Ernie Reyes Sr., and the West Coast Demo Team. Reyes Sr. joined the crew as a martial arts choreographer. Several team members made minor appearances in the film, but producers were so impressed by Reyes Jr.'s skill that a new role was written in specifically for him.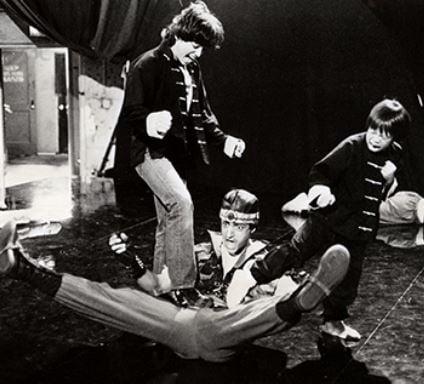 Reyes and another child actor bring the pain to a bad guy in "The Last Dragon."
His performance caught the attention of producer Dino De Laurentiis, who was looking for a young actor to cast alongside Arnold Schwarzenegger in the fantasy-action film "Red Sonja." De Laurentiis immediately cast Reyes in one of the film's main roles.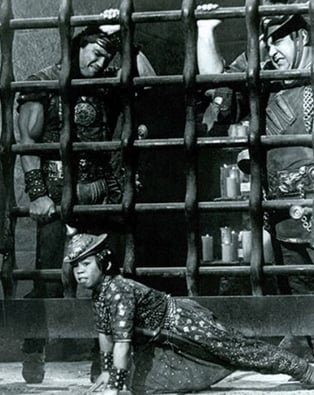 Reyes in "Red Sonja."
"Working with Arnold was an amazing experience," Reyes recalls. "It was my first real starring role in a major movie. There I was, in Italy lifting weights with Arnold Schwarzenegger. What kid wouldn't love to do that?"
With his martial arts talents front and center on the big screen, it was a breakthrough role for Reyes. Michael Eisner, Disney's chief executive officer, gave the green light for Reyes to star in a TV pilot developed specifically to show off his skill.
"Mr. Eisner said I was a real-life 'Karate Kid,'" Reyes says. "So, they created the movie, which eventually became (the TV series) 'Sidekicks.'" In "Sidekicks," Reyes plays the last of a clan of martial arts masters, whose grandfather, before dying, entrusts him to the care of a police sergeant. Despite his youth, Reyes' character's martial arts talent is often called upon to save the day or solve a case.
A very junior Reyes Jr.! Also, a very young Don Cheadle.
Reyes' childhood roles mimic at least one actual occurrence from his offscreen life. In every aforementioned work, and others such as the film "Surf Ninjas" and Murderers' Sky, a "MacGyver" episode, Reyes' characters often faced off against larger, much older opponents. Few of the watchers who only knew Reyes through his film career realized how accurate that was, given Reyes' competitive history in the adult divisions.
Whether they were aware of Reyes' true martial art skill, or simply enjoyed the athleticism and energy of his acting, the inspiration viewers took from his performances is evident. On message boards and online forums dedicated to classic movies and TV, martial arts aficionados, fans and self-proclaimed '70s- and '80s-kids still recall fond memories of watching Reyes.
"This show is AWESOME," one poster proclaimed of "Sidekicks." Another added, "I wish it had lasted longer."
Many credit him for sparking their own interests in martial arts.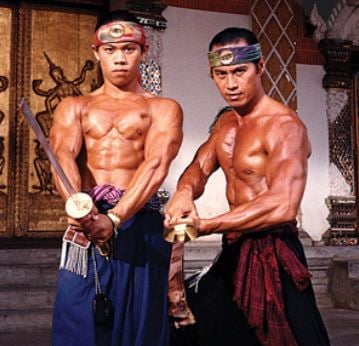 Acting and martial arts run in the family: Reyes Jr. and Sr. starred alongside each other in the 1993 movie "Surf Ninjas."
The exact number of martial artists who are training or teaching today because of Reyes' influence will never be known. But his prolific work as a martial arts actor had a doubtless effect on many individuals.
Even as Reyes' acting career was reaching new heights, he was discovering a darker side of a Hollywood career. No one, however smart or talented, is immune to the side effects of fame, and kids can be particularly vulnerable.
"What comes along with being a celebrity, especially when you're young, is that you experience things early in life that you would normally not experience until you're much older," Reyes says. "I did go through everything that is the norm for Hollywood child actors. That includes drinking, drugs, and all the other vices that Hollywood has to offer. You don't avoid that, and I don't want… to come off as a holier-than-thou kind of person."
Every year, new stories of fallen child stars are spattered across the front pages of tabloids. Some go too far down a dark path and lose everything: money, admirers, career, even friendships. Every time things started to look really bad for Reyes, martial arts and the values they had instilled in him pulled him back from the brink.
With the arts as a guiding light, Reyes was able to continue his high-profile acting job while maintaining strong ties to his friends and family. His father, in particular, was a source of wisdom.
"When I was very young, my dad would talk to me. He explained that I was inspiring people and creating a positive change in their lives. At first, I didn't really understand what he meant, but now I do," Reyes says.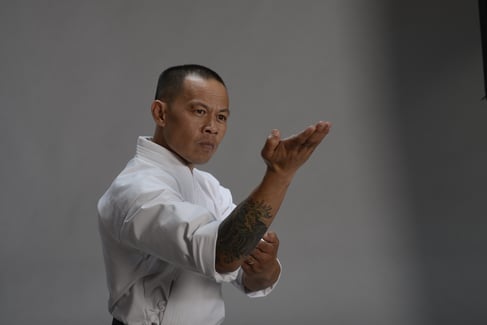 He built a philosophy of giving back, or "giving value to others." Instead of pursuing fame for fame's sake, he decided to become someone worthy of being a role model – just as his big-screen heroes had been for him as a child.
Looking back on his wilder days, Reyes isn't sorry that those times are behind him. But, he says, he also doesn't regret anything that happened.
"Although it may have caused me pain later in life, it was part of my learning process," admits Reyes. "Without all those experiences, you don't become who you are. I've learned that my purpose in life wasn't to be an actor and to be rich and famous. It was to use my talents to inspire others to achieve their goals and have a good life."
Reyes, likewise, has lived a good life and achieved many of his goals. He has a 3-0 professional fight record in Strikeforce. He has a family of his own. He successfully weathered multiple work dry spells, when auditions were scarce and it seemed the film industry's needs for a martial artist were few and far between.
In 2007, Reyes got the chance to accomplish a special lifelong goal.
"Since being an eight-year-old kid, I was blown away by all of the Indiana Jones movies," recalls Reyes. "I remember specifically watching "Indiana Jones and the Temple of Doom" and the Asian kid in the movie. All I could think about was, 'Wow, someday that could be me.'"
He might have hoped for "someday," but he still wasn't expecting to come home one day to his wife telling him, "Indiana Jones is looking for you!"
"The next thing I knew, I'm working in [Indiana Jones and the Kingdom of the Crystal Skull]," Reyes says. "The cameras are rolling…and a few feet away is director Steven Spielberg. I can't begin to describe the feeling I got
when, after a take, Steven flashed a big smile and was giving me a big thumbs-up. I'm thinking okay, that's a wrap for me. I could barely contain my excitement. I'm working with Harrison Ford, and Steven Spielberg is giving me a big thumbs-up."
Reyes' role in "Crystal Skull," a skull-masked guardian of a cemetery, is small, but one of the most significant to him.
In Kingdom of the Crystal Skull.
He also appeared in the movie, "The Rundown," opposite Dwayne "The Rock" Johnson, and guest starred in two episodes of "NCIS: Los Angeles."
I mean, it's The Rock's movie so you know he has to win. But STILL!
In 2015, Reyes' life suddenly took a devastating turn when he was diagnosed with kidney failure. Doctors told him he would need a transplant; however, he would either need to wait his turn on a lengthy list of transplant patients, or a living donor would need to come forward. Today, Reyes is still waiting.
To stave off further health deterioration, Reyes undergoes dialysis three times a week, four hours at a time.
Seeing Reyes' film roles, it's almost impossible to imagine him still for that length of time. On the screen he exudes energy; his fights are a blur of motion. But now a different kind of fight is taking place.
"I'm too young for my story to end here," he says. "Most importantly, I have a wife and three kids that depend on me. I must make sure they're taken care of before I die."
Some dialysis patients remain on the treatment for 25 years or longer. However, a transplant would give Reyes a better chance of long-term survival, and of regaining some of his health. Even with dialysis, the disease is taking a toll. His eyesight is failing.
And still, Reyes continues to train in martial arts.
"My training helps me to keep my spirit strong," says Reyes. "A warrior, a true martial artist, never gives up the fight. It's that mindset that's allowing me to continue on and turn a negative experience into something positive."
"What I've learned and come to understand is that the cycle of life is all the same," he adds. "You are born, you grow up, you get old and you die. And the only thing that's remaining is the legacy that you've left behind."