Joshua Loya grew up in the 1980s, watching "Karate Kid", "Teenage Mutant Ninja Turtles" and dreaming of one day becoming a black belt. But Joshua was born with a high risk of retinal detachment and eye injury, making martial arts training out of the question. At age three he had already lost the sight in his right eye, and despite countless surgeries, Joshua went completely blind shortly after his sixteenth birthday.
"It was tough," Joshua admits. "I had been through the emotional ringer by the time I lost the remainder of my sight. It took quite a while for me to adapt."
But with the help of his mother — who went blind herself before her son's birth — Joshua did adapt, and not only learned how to use a cane and read braille, but became something no one could have ever foreseen: A black belt in not one but three martial art disciplines.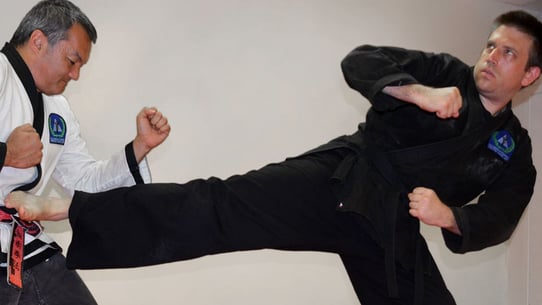 Loya, right.
"It's all pretty amazing, what he's beenable to accomplish," says Joshua's instructor, Master Scot Conway. "When you consider where he was and where he is now, it's enormous."
When Joshua started his martial arts training in 2005 — nine years after going blind — he not only had to quiet the concerns of friends and family, but his own self-doubts as well.
"Knowing that I wasn't competing against anybody but myself made the difference," Joshua recalls. "Once I got that, that helped me to let go of people's criticisms."
Master Conway of Guardian Quest Martial Arts in Spring Valley, Calif., was instrumental in Joshua's progress, adapting the visual-heavy curriculum for someone without sight.
"From the beginning I told him, 'the question is not whether or not you can, it's what will it take for someone like you to do this?'" Master Conway says.
With that in mind, both Joshua and Conway began setting — and achieving — lofty goals.
"There was never a thought that I couldn't do something," Joshua says. "There was always an expectation. There was never a time I could use my blindness as an excuse, because I was expected to do things just like everybody else."
Joshua earned his third-degree black belts in karate, jiu-jitsu and weapons after nine years of tireless training.
"I wanted something more," Joshua remembers. "I was looking for something to breathe life into the rest of my existence, and [martial arts] made the difference."
Joshua is now an instructor himself at the school, along with his wife, Andrea. Being a blind martial artist brings challenges, and being a blind martial arts instructor brings even more, but Joshua teaches the same way he learns: through sound and touch.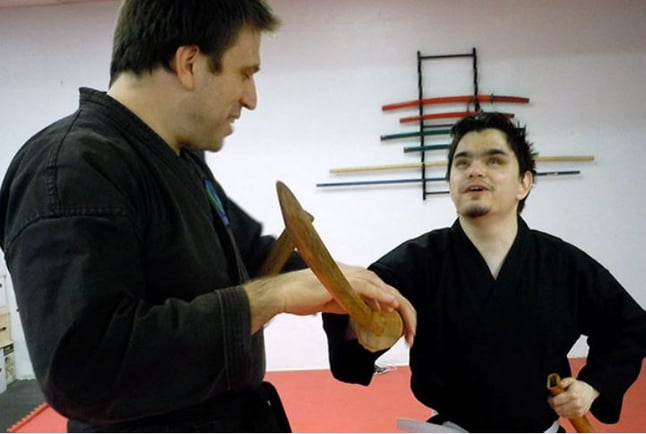 Loya, left, with a student.
"There's only a handful of things, when it comes to evaluation, where I might rely on another instructor," Joshua says, going on to explain that he can often hear when a move is done incorrectly, something other instructors cannot do.
"It really comes down to having enough confidence that what you're doing is important," Joshua says, "and having people to encourage you that, yeah, it is possible."
Want more inspiration from Josh? Visit his YouTube channel.