Tori Lynn Andreozzi earned her black belt in karate at the age of 12. One of the highlights of her competitive career came when she was only nine years old, at the Quebec Open. She was excited to compete and mingle with other martial artists. When she was the first to present out of 52 in her division, she expected to be forgotten by the judges. It didn't dim her attitude, though – she was just happy to be there.
"But she won," her mother, Cathy Andreozzi, remembers. "And she had learned how to do her presentation in French out of respect for the country and the judges. That was just Tori. That's just the way she did things."
Cathy Andreozzi looked forward to great things in her daughter's future. Tori had the spirit of a fighter. She was determined to ascend through the ranks in sport karate to one day join Team Paul Mitchell, an elite group of competitors from around the globe. Tori trained with Don Rodrigues, the head coach and co-founder of Team Paul Mitchell. The mother and daughter duo had once traveled to Florida, so Tori could train with Lauren Kearney, a TPM coach known for her talent in forms and weapons.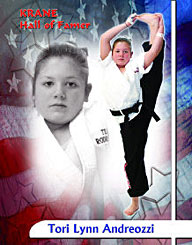 Tori, age 12.
It seemed almost impossible that anything could stop the vivacious, outgoing girl. But on March 26, 2003, Tori's future was suddenly taken away.
On a warm, sunny Wednesday, Tori and her older brother Rob rode the bus home from school, like always. They got off at the same stop to walk the same route the last few blocks back to their house. Tori, a dedicated student, carried a heavy backpack filled with books. She skipped a few steps ahead of her big brother on the sidewalk.
She was looking forward to getting home and seeing her parents, perhaps planning to grab an after-school snack before practicing karate. Halfway through the school week, her mind might have already turned to the weekend, to sleepovers with friends, movies or mall trips – typical 12-year-old plans.
Then a car hopped the curb and swerved at the children, narrowly missing Rob. The driver slammed into Tori from behind, throwing her onto the hood then over the side of the car, before speeding off. The accident happened within sight of the Andreozzi's backyard.
Tori's parents, who were home at the time, heard a commotion on the street. As they rushed outside, they heard their son, screaming. They found Tori by the side of the road.
"It was extremely grave," Cathy said. "We didn't know if she was still with us. I remember bending down to take her pulse and seeing her sigh, and knowing she was still there. I told our family: tell Tori that you love her."
In the chaos, someone dialed 911. Cathy managed to jump in the ambulance as Tori was rushed to the hospital. During the ride, Tori's heart stopped. EMTs began defibrillation as Cathy called to her daughter, "Mommy's here, Tori. Stay with Mommy."
At the hospital, doctors ran to take Tori from the ambulance, but one EMT stopped them. He kept saying, "One more time," and wouldn't let them move her.
"He was defibrillating her, and that 'one more time' restored Tori's heartbeat," Cathy says. "I always remember wondering, if he hadn't done that one more time, just how much more damage there might have been."
Hospital staff stabilized Tori, but it was apparent that she needed specialty care. After giving the family a few minutes alone with her, "not knowing if that would be the last moment that we would have," says Cathy, another ambulance transported Tori to a larger hospital with an extensive triage unit.
News of the accident spread fast. Don Rodrigues, who was in the midst of getting his school ready for the upcoming Ocean State Grand Nationals Tournament, left his preparations to join the family at the hospital. Matt Emig and Daniel Sterling of Team Paul Mitchell travelled from New York to Rhode Island to be with the Andreozzis. Within an hour over 50 people, including many members of the martial arts community, had arrived at the hospital to rally around Tori.
"Tori was the youngest of this crew, but it didn't matter because they all had that commonality of passion and talent in the martial arts," says Cathy. "It's what bonded them as a family. They were brothers and sisters in the martial arts, and they were such an incredible support to us."
On that first night, support was critical as more facts about the accident came to light. Watching local news in the hospital waiting room, Cathy learned the name and saw the face of the woman who had hit Tori. She had been driving under the influence of alcohol, and had been arrested after fleeing the scene of the accident. Equally hard to see were the pictures of the damaged car, knowing that every scrape and dent in the metal corresponded to an injury on Tori's small body.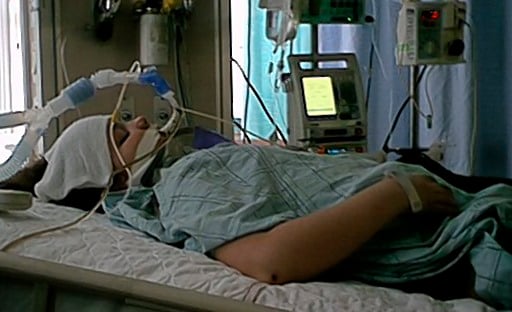 Cathy remembers a "parade" of doctors working on Tori, coming to the family one after the other with their findings. The heavy backpack Tori had been carrying from school had shielded her internal organs from the brunt of the impact. But that was the only good news. Her legs, arms, and, most critically, head had sustained heavy damage. She was in a coma. Doctors couldn't say if she would ever wake up.
What they did tell the Andreozzis was that the longer she stayed in the coma, the harder it would be for her to come out.
"We wanted to try everything that we could to pull her out of that coma," Cathy says. "I was thinking that maybe familiar voices would be helpful, and I also wanted to give some of her closest friends an opportunity to say their goodbyes, if need be."
Tori's friends surrounded her in the hospital room, speaking words of encouragement and looking for hands to hold through the bandages. "We're waiting for you here," they told her, and called her by her nickname: "Be strong, Tori-Glory."
Weeks passed before Tori's doctors would say definitively that she would live. When they finally confirmed she was out of critical condition, the other shoe dropped: Tori had suffered irreparable brain injuries and even with rehabilitation, she would never be the same girl as before the accident. That she survived at all was something of a miracle – one Cathy partially credits to martial arts.
"That indomitable spirit, and being trained, being in such good physical condition, with that mental fortitude, came from martial arts," she said. "It served Tori well."
Tori is no longer able to participate in her beloved karate. Now 25 years old, she cannot do many of the other things an ordinary young woman can do, because one person made a decision to drink and get behind the wheel. Tori lives at home with her mother, who is her primary caretaker.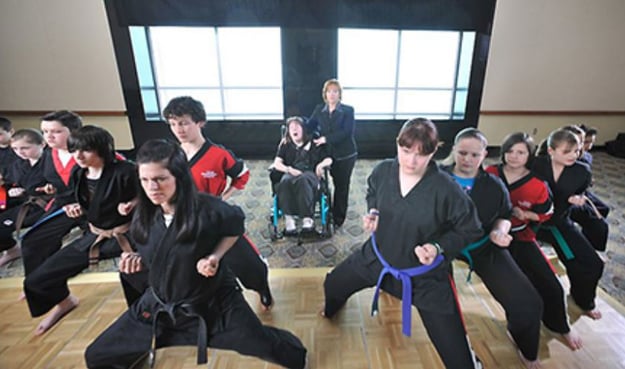 Tori and Cathy (center) at a martial arts class.
"We were told that she would be in a vegetative state," Cathy says. "Then they upgraded her to minimally conscious state. But we really believe that Tori is much more aware than they give her credit for."
Cathy says Tori comes alive in familiar settings like the Ocean State Grand Nationals Tournament, which the pair recently attended.
"That's home to her," says Cathy. "It really seems as though she (remembers). She had her likes and dislikes in terms of forms and weaponry, and she certainly seems to show the same preferences all these years later."
Cathy and Tori weren't at the tournament solely as spectators. For Cathy, it was also work. After Tori's accident, Cathy founded the Tori Lynn Andreozzi Foundation to help prevent drunk driving. At Ocean State, she presented the foundation's inaugural Winds of Change Award to Jackson Rudolph, a member of Team Paul Mitchell.
"(I wear) a blue ribbon on my right sleeve when I compete, for Tori," Rudolph says. "It brings a little piece of her into the ring with me since she can't (compete) anymore. And in coordination with the foundation, I've been doing a lot of work to raise awareness about drunk driving."
Rudolph is younger than Tori, and hadn't yet joined Team Paul Mitchell at the time of her accident. Still, like all the other team members, he feels a special connection to Tori's cause.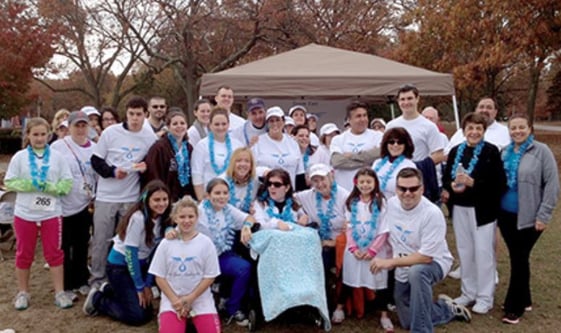 Supporters of the Tori Lynn Andreozzi Foundation.
Through her daughter's namesake foundation, Cathy and supporters like Rudolph have become a force for positive change. Cathy travels to high schools and drivers' education classes across Rhode Island and beyond, sometimes accompanied by Tori, and gives presentations on the consequences of drunk driving. She estimates that last year, she spoke to around 4,000 students.
"To me, working with young people is probably one of the most rewarding things," says Cathy.
She also works with the Rhode Island State Police, visiting local municipalities to provide training and encourage them to take the time to thoroughly process DUIs.
"Almost any other violent crime… takes (police) about an hour's worth of paperwork," she explains. "But a DUI or drunk driving crash takes about four hours. So many times, if there were no injuries, officers know that (the charges) could simply get thrown out. They're hesitant to go through all of the paperwork. But I remind them that on the other side of that paperwork is a family. For every mother who has to come into the police department and pick up her child… there's another mother who doesn't have to be told that her child is never coming home again."
The Tori Lynn Foundation also lends its support to the Zero Fatalities Program, another initiative aimed at ending drunk driving. Cathy collaborates with law enforcement on projects that bring driver's-age young adults, accompanied by their parents, into prisons to talk with convicted impaired driving offenders.
But Cathy doesn't just want to steer kids away from bad decisions. She also wants to give vulnerable youth the chance to get to do something great.
"One of the things I'd like to do at some point is create (karate) scholarships," she says. "I haven't figured out quite how to frame it yet, but we'd like to come up with some sort of program for at-risk youth to provide them with scholarships for martial arts training."
Currently, the Tori Lynn Foundation helps sponsor outstanding martial arts students to allow them to compete at the Ocean State Grand Nationals Tournament in Rhode Island, where Tori was once an active competitor.
Cathy Andreozzi knows she can never undo the damage done to her daughter and family. Tori will never return to the girl she was before the afternoon of March 26. But Cathy hopes that her foundation can prevent others from having to endure similar tragedy. In name and spirit Tori is still hard at work, helping people as she always loved to do.
"I always say that a parent's worst nightmare is losing their child," says Cathy, "but the second worst nightmare, I believe, is having people forget your child."
And Tori will never be forgotten.