I'm pretty sure this is not what any of us had in mind for 2020.
New challenges are part of any new year, sure. But the novel coronavirus, or COVID19, pandemic has thrown us into an unrecognizable world. We've all had to pivot rapidly. If you're a martial artist, you've gone from training in a school or dojo alongside friends, to training at home alone – if you're lucky enough to continue training at all (if you trained jiu-jitsu, for example, and don't happen to live with anyone else who trains, you might just be out of luck).
If you're a martial arts school owner, the change has been even more jarring. You've closed your doors – voluntarily or by government mandate – for an uncertain length of time. (If you are a school owner, MAIA is here to help! Be sure to check out this resource page.)
Century has changed, too. It feels like overnight, we went from promoting the SuperShow, the annual premier martial arts industry event, in Las Vegas, to transferring tickets to 2021 and reassuring people that yes, the Show will go on – it'll just be digital this year. Months of work booking a venue, getting hotel rooms for attendees and staff are all a moot point now.
I'm not saying – and never will – that this is a good time for anyone, but if there is a silver lining here, it's that we're discovering just how much more we are capable of. We've seen it in the news: people providing birthday parades for quarantined kids; celebrities using their social sway for good; small acts of ordinary kindness that make a world of difference.
And, of course, we're standing in collective awe of the nurses, doctors, hospital staff, care workers, first responders – all of whom are putting their lives on the line working to staunch the spread of the virus.
We've stepped up where we can, too. Because of our manufacturing facilities, Century is considered an essential business. And it turns out, we have the ability to make more than martial arts gear. In early April, we started making disposable masks for hospitals and other medical facilities. Most we donated; the rest we sold at-cost. We were able to make more than 1,000 a week – not too bad, considering it's something brand-new to us!
This is also a time when a lot of people are doing brand-new things. We're running errands for our 70-year-old neighbors who we've never spoken to before. We're fostering pets from overcrowded shelters. We're simply staying in and staying put, even those of us who are young and at fairly low risk of serious complications, because we know that that's what it takes to protect those of us who aren't.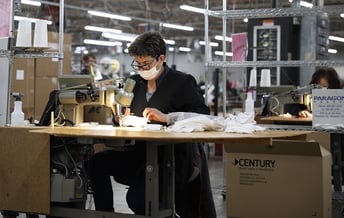 Manufacturing floor is looking a little different these days - usually there are uniforms here!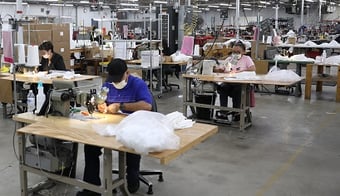 In short, we're all doing everything we can. Besides the masks, the Century family wants to give a huge shout-out to the medical professionals. But we also want to give a shout-out to every member of our martial arts family who are doing whatever they can, big or little, to help us all get through this pandemic.
We're still with you guys. We're all in this together – we're just a little farther apart.