On July 4th, 2009 my life changed with the words "You have colon cancer."
In a strange way, it was a relief to get this news. Finally, I had found out what had been making me feel so bad for so many years. You see, I had gone from being a marathon runner and martial artist to being so weak that for years leading up to my diagnosis, I hadn't been able to run a single mile. But I had no insurance, so I never went to the doctor.
What followed those four words was an emergency surgery, resulting in the removal of a large tumor and the addition of a colostomy bag. During the surgery they found a very rare secondary cancer which, luckily, was easily removed. They predicted that I might have had the cancer for up to ten years.
But they said they got it all out in the surgery, and that I needed no chemo. From that time I set up a plan to get back in shape. After six weeks I resumed my running and started to compete again, colostomy bag and all. After six months, I went back in to have the colostomy reversed. Again, six weeks after that, I began training again.
Then, in 2012 my doctor told me the cancer had returned as stage 4 in my stomach area. When I asked what we were going to do about it, he talked of comfort care and then hospice. Well, I had been running up to six miles a day and I refused to accept that I was on my way to dying! My wife and I discussed it and we decided to fire our doctor and hire my present doctor, Dr. Oommen.
Dr. Oommen found a surgeon who would do the necessary procedure, and I began training for the surgery. After my surgery, when I was recovering in the hospital, I started thinking about what I could do that I hadn't been able to do because of raising kids and my crazy work schedule. That's when I decided to get back to what I really loved: martial arts and my art.
I began my martial arts journey in 1969 when I started taking judo at the local YMCA. I earned a cross country scholarship to Millikin University in Decatur, Illinois. After earning a varsity letter at age 17 I decided to wrestle for Millikin. My sophomore year I transferred to Southern Methodist University in Dallas. While there, I took up Golden Gloves boxing and trained under Dave Gorman (Grand Master Troy Dorsey's coach when he won the WBC Championship) and won the SMU light weight title.
After graduating I trained in martial arts in several different styles. In 1984 I finally found a home at Richard Morris Karate and I've been with Grand Master Morris ever since. Of course, like most people, your kids' activities in sports and school consume your life and martial arts takes a backseat. However, I never stopped training and would often help my friend Grand Master Guy James at his school.
Like I tell people, cancer shuts some doors but also opens other doors. Unable to work, I contacted Grand Master Morris, whom I hadn't seen in years, and started back on my martial arts journey. I've been on chemo treatments since 2012, taking them every two weeks – going in on Monday and wearing a chemo pump for two days and getting it removed on Wednesday. As of writing this, I am about to get my 170th treatment. Most people receive only 10 treatments, but for some reason my body is able to handle it. I run, train, and go to karate class while taking chemo, needle in my chest.
Shortly after starting back with Grand Master Morris I presented him with my idea of my Cancer Warrior Martial Arts Program. I knew how much of a struggle cancer was, as an adult – how much worse, I thought, would it be to have to deal with this monster as a child? I wanted my program to honor kids fighting cancer with honorary Cancer Warrior Black Belt, recognizing their courage.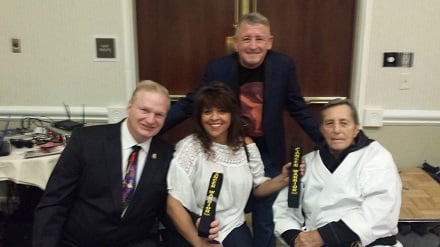 Grandmasters Richard Morris (left) and J. Pat Burleson (right), with Mrs. Burleson and the author (back).
Grand Master Morris agreed to register them under himself as honorary black belts and provide me with a certificate and his signature on each one. I decided that I wanted to self-fund the program and not make it a charity.
When a Cancer Warrior child comes to our school, he or she gets to attend a free martial arts class. We try to structure it around whatever he or she is able to physically do, depending on where they are in their treatment. Then at the end of the class, they are awarded their belt and moved to the front of the class. Their faces light up. And that is the whole reason for this program – to put a smile on the face of a child with cancer, and make them feel special, even for just one day.
CBS Dallas did a story on the Cancer Warriors program - check out this short news clip!
What started as a local program grew to a statewide program, to a national program, and to what is now an international program. If the ceremony is outside of where I live I find a studio close to where the child lives and send everything to them, and they hold the ceremony there. I have never turned down anyone. These children are going through so much more than most of us can even imagine, and may never have the chance to get their black belt as an adult. But they know that a black belt is a big deal. They know it shows that they're tough, and not afraid of a challenge. That's what I want to share with them.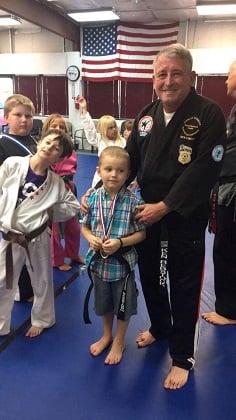 Cancer Warrior Ayden Steffen.
Do you know a child battling cancer? If you would like to nominate someone for an honorary Cancer Black Belt and ceremony, you can contact me through our Facebook page, Cancer Warrior Martial Arts Program, or by texting me at (817) 689-2804.
The Cancer Warrior Black Belt program isn't just for kids, though. I have also honored martial artists, including many grand masters and masters, who have fought cancer – like my own Grand Master Morris and Grand Master Pat Burleson. Our Facebook page contains a complete record of our honorees. All the martial artists you see there have or have had cancer.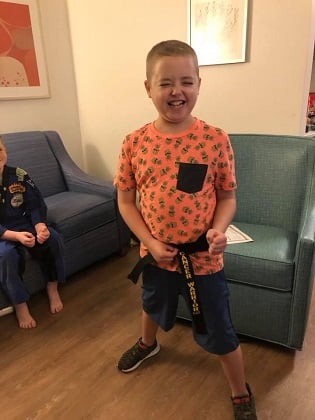 Cancer Warrior Brody Nelson beams as he wears his new black belt.
In addition to the Cancer Warriors program in local schools, once a year at Professor Gary Lee's National Sports Karate Awards in Houston, Texas, I honor martial artists who have fought, or are fighting, cancer. Our community is strong even in good times – but when someone needs help, that strength increases exponentially to rally around the one who needs our support.
Also, if you know someone fighting cancer please tell them my story: I run, I train in martial arts, I officiate basketball and other sports... I believe staying active and positive while fighting cancer is key to beating cancer I believe in all of them. Remember, while cancer will change your life, look for those doors it might open for you. I have been married to my wife, Rosemary, for 42 years. I have three children: Ben, Tiffany, and Brittany; and six wonderful grandchildren: Abby, Alayna, Rylee, Lexie, Blake, and Blair. They are all my team, my caretakers, and my reason for fighting my cancer.
62-year old Ken Rebstock is a 5th dan black belt in American karate, a 4th dan black belt in American taekwondo and Shizen-Na karate, and a judo green belt. An instructor with the American Martial Arts Alliance, he is also a member of the International Council of Grandmasters and a 2018 inductee into the American Martial Arts Alliance Who's Who in the Martial Arts roster.