If you train in martial arts, and have gotten to experience the benefits (physical and mental) that come with involvement, and get to be a part of the community (a colorful assortment of people who use the phrase, "Hey, check out my bruises," far more than any other segment of the population), you probably consider yourself pretty lucky (I know I do). If your S.O. trains with you – or in any art, for that matter – and you get to share that part of your life with them, you're doubly lucky!
You also have the perfect reason to skip the clichéd chocolate, boring bouquets and hackneyed heart-shaped anything and get your partner something really great for Valentine's Day this year – new martial arts gear!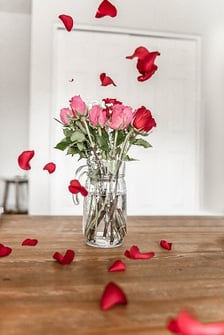 GOING TO DIE IN LIKE THREE DAYS!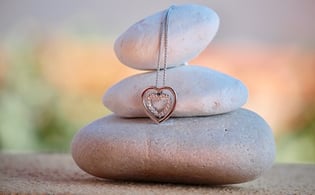 OVERUSED!
Bonus: I've included a terrible pun with each of these suggestions. You're free to use them when presenting the gifts to your S.O., or when calling in and demanding my immediate resignation. Either one's fair, really.
IF THEY TRAIN…
BRAZILIAN JIU-JITSU
YOUR RELATIONSHIP: You and your honey have probably realized, more than once, that public transport or the grocery store checkout line is not the best place to have an in-depth conversation about how to choke someone out. You both rush to be the one to initiate a hug, so you can ensure that you get the double-underhooks.
WHAT TO GET THEM:
What it is: A gi is the uniform worn in many martial arts, including Brazilian jiu-jitsu.
Why they'll love it: Even if they already have a gi, or even two, they'll enjoy having another gi because a) variety is nice; would you want to wear the same thing every day? b) a gi needs to be washed after every time its worn, no exceptions! More gis means less stress and juggling in the laundry schedule. If your better half is into the tournament scene, you could even get them a gi specifically designed for competition, like the Gameness Air Pro.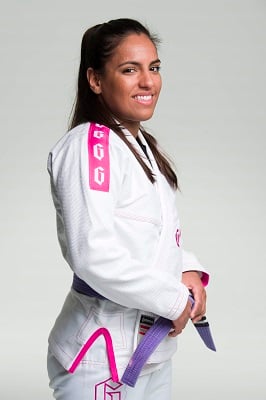 It even has pink accents. It was made for Valentine's Day.
"Dear Valentine...:" "You're un-gi-lievable!"
What it is: A multi-piece training tool designed to help BJJ practitioners increase their grip strength. It includes two gi 'sleeves' with reinforced cuffs and D-rings, which can be attached to the resistance band (included), or via the two webbing straps (also included) to kettle bells, pull-up bars, gym machines, and just about anything.
Why they'll love it: Many moves in BJJ require grasping the opponent's collar, sleeves, or pants -- but you don't exactly see many machines devoted to building finger strength at the gym. The JitsGrips set was made specifically for BJJ practitioners, down to the specific material used in the gi sleeves.
"Dear Valentine…:" "Thank you for always helping me get a grip on things when life is crazy!"
What it is: Rash guards are thin, fitted shirts worn under gi uniforms during training, or on their own during nogi grappling. They're designed to help keep the wearer cool and as un-sweaty as possible during BJJ. The colors of the rash guard coordinate to belt rank levels, so make sure you know which your S.O. is before you buy!
Why they'll love it: Rash guards are by far the most comfortable thing to wear under a gi – they'll appreciate that you're keeping their best interested in mind as they voluntarily participate in a sport where they are repeatedly choked.
"Dear Valentine...:" "Please never make a rash decision and leave me!"*
*My editor suggested that this sounded like a crazy ex-ish thing to say; but I'm going to stand by it because I can't think of a better rash pun.
♥ ♥ ♥ ♥ ♥ ♥
KICKBOXING/BOXING/MUAY THAI/MMA
YOUR RELATIONSHIP: If only one of you trains, you get weird stares from people when you're out in public together. If both of you train, you get really weird stares. People know that it's bad if one of the two people in a relationship appears covered in bruises and band-aids and sporting a black eye – but they're not sure what it means when you both look that way.
WHAT TO GET THEM:
Strive Machine Washable Gloves
What it is: Exactly what the name implies. Oh, and they're dryer-safe, too!
Why they'll love it: We have a whole line of NEW COLORS! Also, did I mention they're machine washable? Have you ever smelled a boxing glove? Do you realize what a blessing this is?
"Dear Valentine...:" "Your loves makes me Strive to be a better person!"
What it is: These gloves are intended for MMA training! They feature the open-thumb and open-finger design that will allow your babycakes to transition from striking to grappling workouts.
Why they'll love it: Because jewelry is super-duper overrated, and doesn't stand up to being slammed into a punching bag repeatedly. Creed gloves, on the other hand, are made out of full-grain leather and three layers of foam.
"Dear Valentine...:" "The first moment I saw you, I de-Creed our (g)love was meant to be."
What it is: These training pads are commonly used in martial arts that focus on high-intensity striking. They're excellent for catching kicks, punches, knees, elbows – you name it, a Thai pad can catch it!
Why they'll love it: Everyone has their own gloves – if you're the person at the gym who has their own Thai pads, though, it shows that You Mean Business. It's also really nice to not have to use the decades-old, sometimes-falling-apart communal pads that, after years of absorbing gallons of sweat, are growing bacterial organisms so complex they're close to discovering fire. BONUS: Your partner will love you even more if you offer to spend a few rounds holding the pads for them.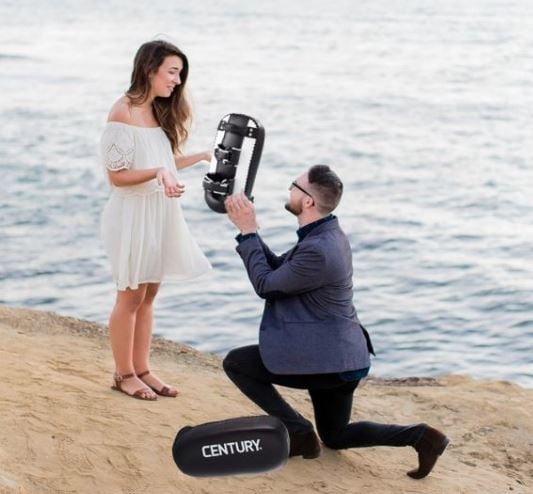 Get yourself a man like this.
"Dear Valentine...:" "My heart is Thai'd to yours – through good times and pad."
♥ ♥ ♥ ♥ ♥ ♥
TACTICAL MARTIAL ARTS/KRAV MAGA/JEET KUNE DO
YOUR RELATIONSHIP: If only one of you trains, that person has taken the role of watchdog in the relationship, and is constantly on alert for potential threats. Your seating at restaurants is chosen not by proximity to windows with good views, but by which table is most tactically defensible. If you both train, you're pretty much unstoppable.
WHAT TO GET THEM:
What it is: Training knives are replica knives used in place of actual, sharpened bladed in martial arts training, because no one likes dealing with stab wounds, and blood is really hard to get out of mats.
Why they'll love it: Many training knives are made out of plastic or foam. And although these are fine, at higher levels of training many martial artists prefer metal training knives that don't bend (like plastic), or go squish-squish in your hand (life foam), and that overall have a more realistic feel. Keen Edge hand-makes every individual knife, so the quality is unsurpassed. Plus, getting your beloved a knife, especially if you don't train, shows them that you're really supportive of their ~unique~ interests.
I take it back; get yourself a man like this.
"Dear Valentine...:" "you're always so good to me, so I wanted to do something knife for you!"
What it is: Again, this is a training weapon – ASP Red Guns don't fire so much as rubber bullets. ASP guns are popular not just with martial arts/tactical training students, but with military and law enforcement officers for their high levels of detail (down screws and texture on the grips) and distinct color (which prevents them from being mistaken for actual firearms). There are a huge variety available, from tiny Smith & Wesson J-Frames to AK-47s.
Why they'll love it: Many tactical martial artists practice learning gun disarms, and some may even practice tactical movements with a gun, tactical drawing of a gun, or strikes with a gun. All of these are wonderful things to practice, and terrible things to practice with an actual gun (all it takes is one time to forget it's still loaded and you've got a crisis on your hands – also, if you're practicing, say, gun butt strikes on your BOB, do you really want to risk damage to your actual gun, or do you want to use a weighted replica rubber gun?). Having a training gun will also let them practice disarms at home – with a willing training partner, that is (wink, that's you, wink!).
BOB is not feeling the love.
"Dear Valentine...:" "Roses are Red (Gun), Violets are blue; You've shot me through the heart, And I really love you."
What it is: …pepper spray.
Why they'll love it: It's a thoughtful gift that shows you care enough about them to want them to be able to scald the eyeballs and airways of any potential attacker with maximum-strength capsaicin gel. Not that they're not capable of incapacitating someone on their own with a well-timed eye gouge, of course! But sometimes it's nice to not have to get your hands dirty.
"Dear Valentine...:" "You add spice to my life!"
♥ ♥ ♥ ♥ ♥ ♥
TRADITIONAL MARTIAL ARTS (TAEKWONDO, KUNG FU, KARATE, TANG SOO DO, ETC.)
YOUR RELATIONSHIP: I'm going to guess you both train – or, at very least, they've tries to get you to train. More than once. Martial arts are a way of life, and your partner lives it! Like the traditional martial arts, they place a high emphasis on respect, tranquility and connection – but they can also ramp up the energy when needed!
WHAT TO GET THEM:
What it is: Available in medium, large, and extra-large sizes, these heavy-duty, high-quality bags have tons of pockets as well as a large main section for all the gear anyone could possibly want to carry. Wondering about sizing? Unless they have just a TON of stuff, I'd say go with the Large. I have an extra-large, and let me say, you could conceivably fit a 90-lb child* into that thing.
*I may or may not have tried this with my sister, who, though not a child, is very petite.
Why they'll love it: Not to stereotype, but traditional martial artists are sometimes…very traditional. In all ways. Meaning there's a 50% chance they're still using their old gym bag from middle school (or worse, a plastic grocery bag) to carry their gear, because "Hey, it still works!" You know they're not going to buy something nice for themselves, so you might as well do it for them. And it's the kind of practical present you know they'll appreciate!
"Dear Valentine...:" "I can't even bag-in to describe how much I love you!"
What it is: This clever film target set includes a short pole and suction-cup attachment so you can stick in onto walls, as well as a band for attaching it to a punching bag, and two targets (one rectangular and one that's trapezoidal, but I hate that word – it's a triangle with one tip cut off). The targets are made of film, and make a nice snappy-snap sound when kicked or punched correctly.
Why they'll love it: These targets are great for practicing solo – hence the name – and the wall attachment makes them perfect even if your S.O. lives in an apartment or other space that won't fit a bag. It's the gift that keeps on giving, since now they'll be able to practice their best moves at home!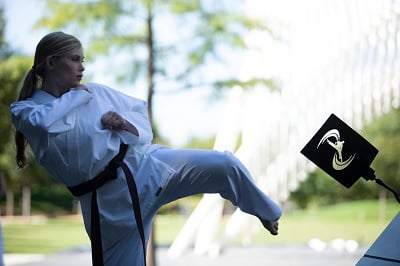 You can even attach it to inclined surfaces (in this case, the side of a building) for different angles!
"Dear Valentine...:" "If I was ever stupid enough to let you go and become Solo, I'd Strike out for sure!"
What it is: Well, in general, it's a collection of printed pages, bound together, in a specific order on some coherent topic. But more specifically…well, that's a little harder! There are so many good books to choose from, and you know your darling's taste in literature better than I do. You can find volumes by Bruce Lee, an in-depth guide in karate weaponry, lore from the founders of entire styles, inspiring anecdotes, and more.
Why they'll love it: Reading about a martial art gives you a fresh, and sometimes different, look than training. If your babes loves their art, they'll love reading about it. Plus, reading is a great way to relax and wind down after a long day of training!
"Dear Valentine...:" "Our love is one for the books!"
♥ ♥ ♥ ♥ ♥ ♥
Those are my best suggestions (and my worse puns!). You're welcome for both. Remember – Century has over 11,000 individual items, so if you didn't see the perfect present on this list, I'm sure you'll be able to find it online!
Happy Valentine's Day, everyone*!
(*Including you single people out there. I see you! Buy yourselves something nice and remember, Martial Arts > Marital Arts.)